About
Get Away to the Most Pristine Wilderness in North America.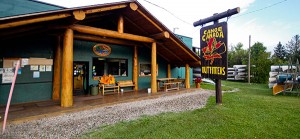 We are Canoe Canada. Your link to the glorious, unbridled north. If you're looking to escape pavement, routine or even your zip code look no further. With access to the most majestic lakes and wilderness, the days you spend here will stay with you for a lifetime. So for a trip that feels more like an adventure than a vacation – your journey begins here.
We have been at this for over 40 years. Canoeing, camping, fishing, whatever your passion, we can get you out there and back with everything you need, and nothing you don't. With packages and
services for all breeds of adventurers, it's no wonder we're Canada's foremost outfitter.
Quetico is the Canadian side of the Boundary Waters Canoe Area. It covers 4,800 square kilometers of untouched wilderness in Northern Ontario's Pre-cambrian shield rock forest.
No hunting, roads, or development of any kind are allowed and firearms are prohibited. Even motorized boats are banned from the park, so you can travel by canoe through a truly remote wilderness.
Contact Info
Canoe Canada Outfitters
300 O'Brien Street,
P.O. Box 1810,
Atikokan, ON P0T 1C0
Phone: 807-597-6418
FAX: 807-597-5804
canoecanada@nwon.com
Maps/Directions
Our main base is "Canoe Canada Outfitters" located in Atikokan, Ontario. Most of our guests that fly, fly with Northwest Airlines to International Falls, Minnesota, however you can also fly to Thunder Bay. There are rental cars or van shuttle options available. Thunder Bay is 120 miles east of Atikokan, and International Falls is 90 miles west of Atikokan.
Flying Your Own Aircraft To Atikokan
The Atikokan Airport is a fine municipal airport. Atikokan has a fine municipal airport with a 3500 foot paved runway, fuel, tie downs, and "pick-up service." Ask for details.
Travel Canadian Hwy #11 to Atikokan, then follow MacKenzie Avenue in town 2 blocks past the Radisson Motel to O'Brien Street. Take a right and drive 2 blocks to "Canoe Canada Outfitters".
Approximate Distance to Atikokan From:
International Falls 90 mi.
Minneapolis 395 mi.
Milwaukee 690 mi.
Des Moines 650 mi.
Omaha 780 mi.
Chicago 770 mi.
Indianapolis 915 mi.
St. Louis 970 mi.
Kansas City 880 mi.
Columbus 1100 mi.
Testimonials:
Our group decided that the only "GREAT" trip outfitter in Canada is "Canoe Canada". Our Scouts and Scouters had a fantastic adventure and that success goes to the very fine help, advice and the EXCELLENT provisioning by CCO.


-- James Haas, Troop 782, Manchester, MO

We had a fantastic experience at your Batchewaung cabin in early September. To have the luxury of staying in this beautiful cabin in Quetico Park was truly special. Your personal offer to help us portage our supplies in the first day we arrived was extremely gracious, Jim. I always enjoy the chance to bring my friends as new customers to Canoe Canada, as I know they will have the same great experience that I've had. See you next September!


-- Mark Hannah, Spring Hill, KS

We are writing this letter to tell you thanks, and to let you know we will never use another outfitter - your hospitality was second to none. The equipment was first rate...a strong, lightweight, stable canoe, lots and lots of great food, and easy to use reliable equipment. We will be back!


-- Ed Danoski & Greg Staddon, St. Thomas, ON

Of all the outfitters I have used during my camping life, your organization is tops. Please extend our gratitude and appreciation to the entire staff at Canoe Canada for their outstanding efforts in making our trip as pleasurable as possible.


-- Fred Pacheco, Etobicoke, ON