Contact Info
By Mail:
P.O. Box 210
#5 Lakefront
Hudson, Ontario
P0V 1X0
By Phone:
807-582-3284
807-737-4777 (Alt Telephone)
By Fax:
807-582-3284
By Email:
info@LacSeulFloatingLodges.com
Lac Seul Floating Lodges offers you a choice of several houseboat sizes to suit your needs. With 11 houseboats, we can accomodate groups of many sizes. We will help get you started by providing maps and point you in the direction to where the fish are biting. If you desire to sit back, relax and enjoy the magnificent scenery, there are shuttle guides (knowledgeable, independent contractors) available to take you out to the location of your choice, secure you, then come out and bring you in when required.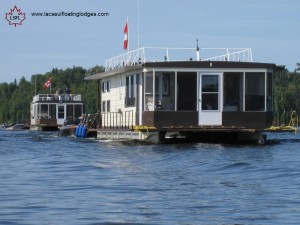 Home
Stay Where the Fish Are!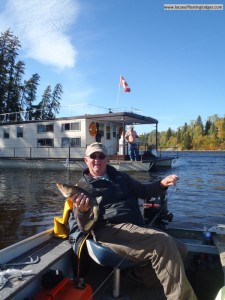 Providing our guests with an enjoyable houseboating experience for over 30 years.
Lac Seul Floating Lodges is located on Lac Seul with our docks in Hudson, Ontario. With world class fishing for walleye, northern, musky, and small mouth bass at your doorstep, avoid the long commute to and from a traditional lodge every day by staying on a houseboat.
Get away from the crowds and enjoy the beauty and splendour of life with a houseboat rental. Lac Seul Floating Lodges can provide you with a complete vacation package to satisfy all types of groups. Come and enjoy some of Northwestern Ontario's pristine wilderness with all the comforts of home.
Not interested in fishing? Bring your canoes or kayaks and explore all the nooks and crannies that Lac Seul has to offer. With the wildlife in their natural setting, awesome sunrises and sunsets, make sure to bring your camera. Lac Seul has something to offer everyone.
Whether you are a family or a group of friends, Lac Seul Floating Lodges can help you plan a houseboat trip for memories that will last a lifetime.
Lac Seul Floating Lodges is based in Hudson, Ontario, Canada. Family owned and operated for over 30 years, we have the experience to get you started right for your houseboat vacation. Our company believes in treating you like family, not just a customer. We offer the personal touch to ensure you get the most from your house boating experience.
Maps/Directions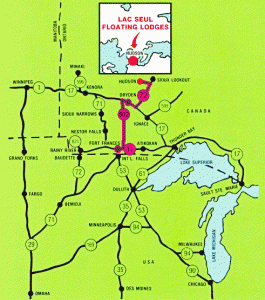 Lac Seul Floating Lodges is based in Hudson, Ontario – a small town with a big welcome for tourists from all over the world.
Picturesque Lac Seul has in excess of 3,300 miles of shoreline. Its pure clear waters are
Fifteen miles away there are a brand new hospital (opened 2010), a medical clinic, a dentist and ambulance services including a stand-by air ambulance on call 24 hours/7days a week able to fly to major medical centres.dotted with many islands, bays and inlets offering safe parking for the house boater. Lac Seul offers excellent fishing all year where anglers will find Walleye (Pickerel), Northern Pike, Bass, Muskellunge (catch and release only), and Perch with Lake Trout accessible.
From the U.S.A.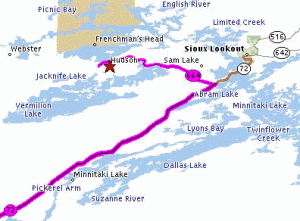 Make your way to International Falls, Minnesota, and cross the border to Fort Frances, Ontario. Take Highway 11 east to Manitou Road (502). Go north on this road to Highway 17 and then east to Highway 72.
In Canada
Follow local highways until you reach the Trans Canada Highway (Highway 17). Follow highway 17 towards Dryden until you reach Highway 72.
Then…
Proceed north on Highway 72 and then turn west onto Highway 664. This takes you straight into the town of Hudson. Once in Hudson, after you pass the Liquor Store on your right, turn right at the intersection and you will see the lake. Follow the road to our office on the waterfront.
Testimonials:
"We keep going back every year due to the great service we get from Dave and Irene as well as everybody else who works for Lac Seul Floating Lodges, this is by far the way to go fishing, never have to worry about getting wet or cold, always have a nice place to come back to and dry off or warm up after a hard day of fishing. Thanks"


-- Paul Carlson, Independence, MN

Fishing from the Lac Seul Floating Lodges was one of the Best Fishing Experiences I've ever had. Absolutely First Rate! I landed & released a 4lb. Small-mouth on Sept. 27 - my Biggest Ever! Thanks for a Great Time!


-- Tim Stricker, Lansing, MI

""When I caught my first big fish, I told my Grandpa to take the pole, it was too heavy. He said "no, you can do it". He helped hold the pole, but I reeled and reeled and then my Grandma netted it. It was the hugest fish I ever caught! It was 23.5 inches. I also caught a 12 inch perch. I caught a whole bunch of fish! I also like watching the loons, seagulls and especially all the eagles. We saw 10 eagles. I saw three baby beavers swim to the island we were on. My trip was AWESOME!!"


-- Austin Smejkal, Age 7, Milton, WI

"For the past three years our family has enjoyed vacationing on the houseboats. They are always very clean, well stocked and everything is in great working condition.
Dave and Irene have always been very accommodating and we definitely look forward to coming back each year. We highly recommend Lac Seul Floating Lodges as a great family getaway."


-- The Millers & The Fleischmans