Your Fishing & Hunting Outfitters
Cobb Bay Lodge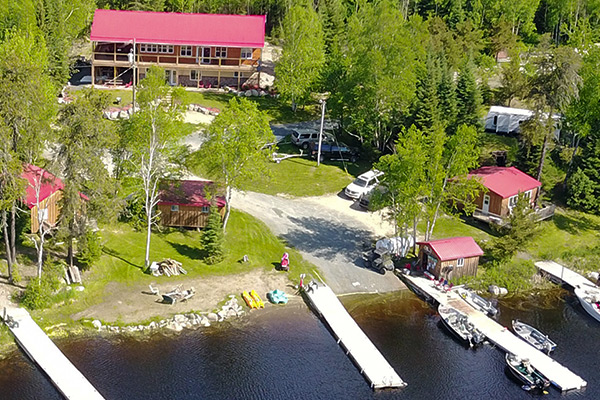 This year Josh Dhuey joined the Elsen/Dhuey group. He fit right in and even gave his brother, Nick, a run for his money when it came to fishing! Josh caught a 38 inch northern pike! Way to go, Josh! ...
view all
Cobb Bay Lodge is located on the secluded bays of the famous Sturgeon Lake, just one hour north of Ignace. In addition to Sturgeon Lake's remarkable lake trout fishing Cobb Bay is known for its abundant walleye population and huge northern pike. The layout of the bay system provides shelter from many of the elements allowing for fishing in almost any weather condition, and with miles and miles of pristine shoreline there are many opportunities for you to experience the traditional Canadian shore lunch. In addition to beautiful sunrises, sunsets and dazzling northern lights, wildlife abounds in northwestern Ontario, and there are many ways for you to enjoy its presence. Cobb Bay Lodge offers hunting packages for bear, moose, and grouse during the fall months. We also encourage and promote ecotourism with options for bear viewing. There are also the exciting sightings that occur while out on the water fishing. Our family, as your hosts, strives to make your Cobb Bay experience a vacation of a lifetime. We pride ourselves on high quality service that brings our guests back again and again. We'd love for you to join our Cobb Bay family!
Contact Information:
FISHING & HUNTING
ACTIVITIES
Bird Watching
Hiking
Photography
Ice Fishing
SERVICES
Package Plans
Adventure/Eco Tours
Internet Connection
MEAL PLANS
TYPE OF LODGING
Drive-in Lodge
Winter Accommodation
close
American Plan:
All meals and enhanced services such as daily maid service are included in the price of these packages.
Housekeeping:
Includes only basic services, cabins are equipped with a kitchen and the utensils to make your own meals. Meals are not included.
Modified American Plan:
Generally includes 2 meals a day instead of 3 and some or all of the resorts enhanced services.