Your Fishing & Hunting Outfitters
Whitewing Resort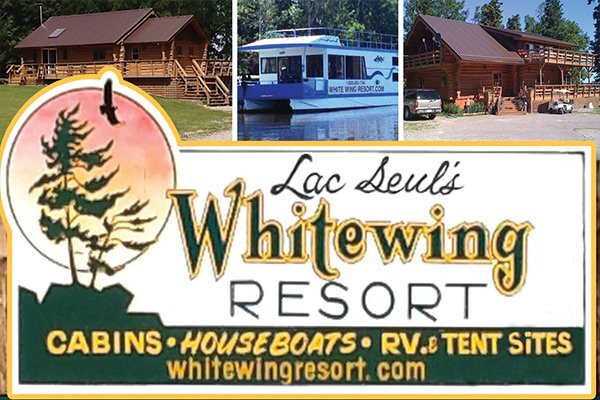 Modern Housekeeping Cottages or American Plan Cottages with all conveniences. Houseboats - Ultra modern with all conveniences 16x65, up to eight people. RV Parking & Tenting - Drive Thru Sites LLBO Licensed Lounge Bear or Ruffed Grouse Hunting. (Call for more info) Cabin packages include: Boat and motor, 30 gallons of gas, fourteen dozen minnows, ice, freezer and wrapping for fish. Come and join us for the best in trophy fishing and an enjoyable week in the great Canadian wilderness.
Contact Information:
FISHING & HUNTING
ACTIVITIES
SERVICES
Package Plans
Internet Connection
Camp Ground

Full Hookups
Water Only
Electric Under 30amp
Electric 50amp
Dump Station
Tent Camping
MEAL PLANS
Housekeeping
American Plan
TYPE OF LODGING
close
American Plan:
All meals and enhanced services such as daily maid service are included in the price of these packages.
Housekeeping:
Includes only basic services, cabins are equipped with a kitchen and the utensils to make your own meals. Meals are not included.
Modified American Plan:
Generally includes 2 meals a day instead of 3 and some or all of the resorts enhanced services.