Mustard-Broiled Walleye
* 1 ½ pounds walleye * 2 tablespoons oil * 2 tablespoons mayonnaise * 1 tablespoon Dijon mustard * Fresh lemon juice to taste * ¼ cup chopped parsley * Freshly ground pepper to taste * Grated Parmesan cheese 1. Preheat broiler. Place walleye in single layer on lightly greased broiler pan. 2. Brush fish lightly with oil. Combine mayonnaise, mustard, lemon juice, parsley, and pepper; spread mixture onto fish. 3. Broil walleye for 3 to 8 minutes, or until topping is browned and fish flakes easily when tested with a fork. 4. About one minute before the fish is completely cooked, sprinkle a bit of Parmesan cheese on the top of the fish. 5. Place fish on heated platter; serve at once. ***cooking time will vary depending on thickness of fillets.***
You may also be interested in:
Read Full Article
The Invincible Pike Fly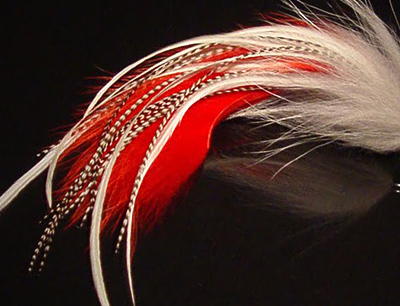 Simple article going over the details on how to create one of the worlds most durable flies for fly fishing. This fly can stand up to it all! record size pike, muskie, snapper, lake trout, sea trout,even sharks! Basically, whatever you can land with a fly rod. nter "The Invincible", the pike fly that can be tied as big as you want, with synthetics that shed water like a happy duck.