Walleye Stir-Fry
INGREDIENTS: * No stick spray * Cube sized walleye * Water chestnuts * Soy sauce * White wine * Bag of frozen vegetables * Stir-fry sauce * Cashews or peanuts (optional) DIRECTIONS: 1. Spray the bottom of a frying pan, skillet, or electric wok with non-stick spray. 2. Combine soy sauce to taste, fish, water chestnuts, and a splash of wine in pan. Cover and simmer for 5 minutes at medium heat. The fish will be done when they are a similar color to the water chestnuts. 3. Pour in bag of frozen vegetables, cover pan again and simmer for 5 more minutes. 4. Add stir-fry sauce, letting it site for 5 minutes to permeate food. 5. Add to a bed of rice or chow mien noodles. Garnish with nuts (optional).
You may also be interested in:
Read Full Article
Fishing for Pike from a Canoe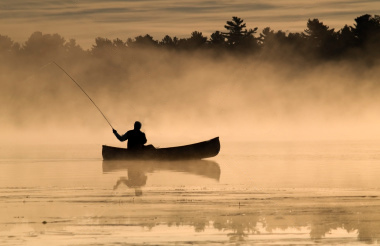 The author Craig Fiske describes a memorable day on the lake catching aggressive Pike using a canoe. He also offers tricks and tips to catching trophy northern pike. He gives his recommendations for which lure to use, and more. "It was late August of last year when we pulled our canoe into a secluded bay a couple miles southeast of Perrault Falls..."