About
North Caribou Lake – The Heart of 'Ontario's Last Frontier' 
Simply the Best Deluxe Fly-In Outposts on North Caribou Lake. Fabulous Northern & Walleye fishing on this 81,000 acre lake.
Remember, Rest, Relaxation & a Rejuvenated Soul are the results of a great fishing vacation!
The Best Lake in Ontario (ask our guests)
81,000 Acres of Trophy Northern and Trophy Walleye
Fly-In Wilderness Beauty with a Rustic, Sand Beach Island Setting
Small or Large Groups – Meals an Option
Camp Manager on Site
Fully Modern Accommodations
North Caribou Lake is a biological bastion for big fish. Whether it is 40″ plus Northern or Walleye approaching 10lbs., the action is nothing short of awesome. Dotted with countless islands, reefs, bars, weedy bays, inlets and outlets; there is simply no end to the structure for fishing. Mother Nature's scenic beauty provides the home videoist with an awe inspiring backdrop to a wilderness fishing adventure of a life time.
Accommodations 
The main camp on Cemetery Island boasts 3 two bedroom sleeping cabins, an over-sized cook cabin, shower house with 2 three piece baths, fish cleaning house and a camp attendant to ensure everything runs smoothly.
Our new log 4-6 man cabin, also on Cemetery Island, is completely set up with full kitchen, bath and private dock.
The camp on JJ Island is another great location for large groups. It also has 3 sleeping cabins, a main cook house and shower house with 2 three piece baths. The camp attendant from our main camp on Cemetery Island checks in on JJ guests throughout the week to assist where needed.
Contact Info
The Brodhagen Family
P.O. Box 990
Dryden, ON P8N 3E3
Phone Toll Free: 877-233-2717
www.northcaribou.com
e-mail: robs@drytel.net
Maps/Directions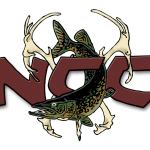 Driving To Pickle Lake:
From the Pigeon River border – Thunder Bay, ON
Take Hwy. 61 North to Hwy. 11/17 West
Hwy. 17 at Shabaqua Corners to Ignace, ON
Hwy. 599 North at Ignace to Pickle Lake
From the International Falls border – Fort Frances
Take Hwy. 11 East to Hwy. 502 North to Dryden
From Dryden take Hwy. 17 to Dinorwic
Hwy. 72 North to Sioux Lookout
Hwy. 516 East to Hwy. 599 to Pickle Lake