Article Category:
Fishing
By Wes Beach
Northwestern Ontario is world renowned for the quality of its freshwater angling, a reputation which is very much deserved. Much of the reputations the area has was built upon fisheries found within the Patricia Region, "Canada's heartland." Nestled in the heart of the northwest, the Patricia Region has been, and continues to be, on of the top North American destination points for angling adventures.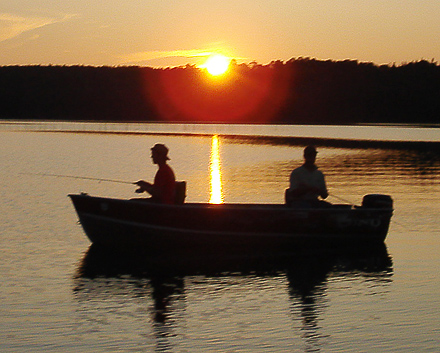 Whether one is looking for trophy fishing in remote, fly-in lodges, luxury accommodations at drive-in resorts, perhaps with guides to pamper and cater to your needs, or just a chance to get away for it all in remote but accessible wilderness, the Patricia Region has it. There are literally thousands of lakes in the region which is the size of the state of Minnesota, offering a countless number of angling opportunities.
Despite the myriad choices, most Patricia Region anglers choose to work the water for walleye. it is, without a doubt, the most popular fish among the Region's anglers.
Popular only partly because it is widely distributed, often abundant and always fun to catch, its main claim to fame among anglers is due to its much exalted taste. For many, the highlight of a Northern Ontario vacation is a shore lunch of fresh walleye, simmered in lard and served with a helping of fried potatoes and greens.
Walleye can be caught casting or trolling spinnerbaits, plugs and spoons but the most popular fishing method in the Region is jigging for Walleye. A lead-head jig and minnow is a deadly combination, although north of the 11th baseline and on some other lakes, live bait is illegal. No matter, a jig with a twister tail will produce just as well.
On many lakes, even a novice angler, fishing from a car-top armed only with a spinning rod and reel and a handful of jigs, will have little trouble catching walleye. Anglers with more experience who come complete with a fully equipped "rig" and adept with the ways of the walleye, can expect to experience the best walleye fishing found anywhere.
And best of all, regardless of the stature of the angler, there is always a good chance of catching a whopper walleye weighing 10 pounds or more. Such a fish is a thrill for any angler, and a real possibility when fishing the Patricia Region.
While there are those who will question "why not?", not all anglers are walleye fanatics. There are those who come to pursue the great northern pike, hoping to latch into one big enough to earn the moniker "gator." Others desire to plumb the depths where lake trout lurk. A few ardent anglers come hunting for a world class muskellunge. Still, others cast the shallows in the chase for smallmouth bass. A few want to experiment for white-fish, and there are some who are happy when they snag a few perch or sauger.