Article Category:
Fishing
Rule #1
with muddy water is to not let it discourage you, because mud generally pushes the bass into shallow water and usually tight to cover, which is the easiest scenario to fish. Even though water clarity is one of the first characteristics an angler notices when they launch in the morning, few use it as a tool to locate bass. In truth, water clarity can be one of the most important elements in locating small and largemouth bass, especially when you correlate it with time of season.
Top anglers create and adhere to the following mental flow chart of water clarity conditions to help locate the bass:
Extremely Clear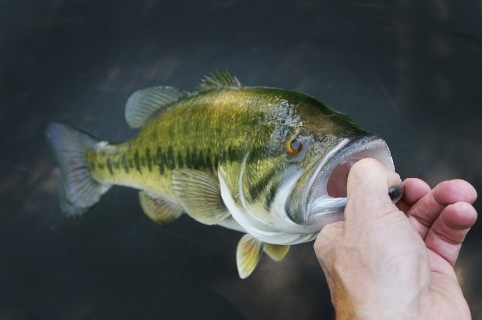 Visibility: At least 8 ft; sometimes up to 20 ft. Typically occurs in the lower end of a lake where the water is deeper.
Tactics: Spring and fall are the best times to fish ultra-clear water, because the fish will be moving shallow. At other times of the year it is recommended that you look for slightly off-colored water or heavy vegetation/cover that will keep fish shallow. When it's clear out, look for steep, fast falling points, channels leading to spawning flats, and submerged roadbeds that bass can use as staging area before moving shallower. Fish using a jig or deep-diving crank bait.
Natural patterns that resemble real bait fish like worms work better than bright, gaudy color schemes.
It is critical to note that – extremely clear water doesn't mean shallow waters are off limits. Top-water lures work well under these conditions before the sun climbs high, but after that switch to small plastic worms or jigs in shaded areas.
Clear
Visibility: 4 – 8 ft. Lower lake tributaries and particularly the mouths of these tributaries have this clarity.
Tactics: Tie on a spinner bait and burn it. In deeper water, especially around steeper bluff banks, drop-shot a small plastic worm.
Both extremely clear and clear water support vegetation, and you should fish it. No matter that time of year, the edges of these are good places to start looking for bass. Although top water frogs skittered over-top of the greenery have become increasingly popular and highly effective in recent years.
Moderate-to-Stained
Visibility: 1 – 4 feet. If not created by sudden rain fall, these conditions usually occur in the backs of creeks, usually in the upper end of a reservoir.
Tactics: This clarity keeps bass shallow and close to cover. Even in the heat of summer, bass might be just 2 feet deep, possibly even shallower.
Muddy
Visibility: Inches. Can occur throughout a fishery, but is most acute near inflows, usually at the upper end of a lake where runoff is most intense.
Tactics: Like dingy water, it will position the bass shallow and tight to cover. In winter muddy conditions can be a deal breaker if you don't know how to adapt.
Cold, muddy water with poor water clarity is one of the worst situations to fish in. Cope by finding the clearest water, usually the lower end of the lake and fish jigs or plastics along rip-trap or steep bluffs. Fishing in vegetation is also another solution, as it slows down water and silt movement.