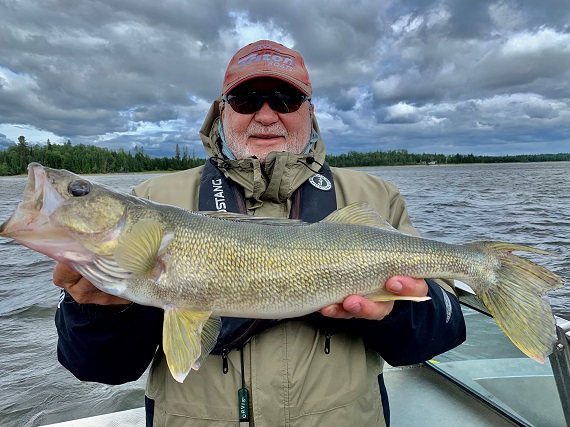 Our previous guests know the numerous reasons, and that's why they return year after year without even considering staying anywhere else! For those of you who have never been on a Canadian Fishing trip, how are you to know where to stay? What is the best way to decide? Lots of people sit at home with a pile of Brochures from different fishing resorts or spend hours on-line and wrestle with that exact question. Naturally, everyone wants to make the right choice and have the best fishing vacation their money can buy.
In all of this market turmoil, we know it has affected everyone and may change how "some" shop for fishing vacations. A few may be driven to shop based on price, looking for the cheapest possible way to go. But is cheapest the way to go? We really don't think so – cheapest is usually never the best bargain. In fact it may be no bargain at all. Don't waste your money! For over thirty years we have built our reputation based on offering quality fishing vacations at prices known to be the best value for money in the business. Are we the cheapest? No and probably never will be. We care too much to compromise the quality fishing vacation packages we provide for you.
The following pages will give you specific details about each and every element of your fishing trip with us – it's what we promise, it's what we guarantee! While some things do change over the years, it is always in the best interest of our guests and their expectations of quality, professionalism and service that have built our reputation as a Premier Fishing Resort. We invite you to compare us to "any" other brochure or trip you are planning. Carefully consider every detail point by point and don't be fooled by fancy wordings or pictures that really don't show the whole story. A great brochure will answer most of your questions and have plenty of pictures clearly depicting the resort.
Even after going through the brochure or the website you still may have a few unanswered questions. Prepare a full list and then call and talk to the resorts you are most interested in. They should be happy to help you and it's a good way to check their willingness, knowledge and sincerity. Make sure the answers are clear and direct. Don't accept roundabout or awkward answers. There should be no hesitation at any time and particularly if the response isn't professional and friendly on the phone (regardless of the time of day) its probably a sign of worse things to come when you get there. If they don't have a toll free number or if you have trouble reaching them during normal hours, you may wonder what kind of "Ma & Pa" operation they're running and really how interested are they in customer service?
Our website and brochure previews Anderson's Lodge, our facilities and services and gives a complete description of the packages we offer. Many components go together to make a successful fishing vacation before you ever wet a line! You can see how important we feel it is to pay close attention to all of those details. We know the combination of a lot of little things adds up to one BIG thing – customer satisfaction.
You will see our full American plan menu and it will clearly show why your dining is the highest quality. Unlike other lodges there is no fixed menu and no fixed meal times. You can dine in air-conditioned comfort each evening between the hours of 5:00 p.m. and 9:00 p.m., with no line up's at a buffet, eating food that has been sitting for a few hours. At Anderson's meals are prepared fresh to your liking each evening, with choices other than the American Plan menu, served table side by a friendly, professional server. Our packages are about you and what works best for your total vacation experience.
New for 2022! We have added an outdoor dining option with a 1080 sq. ft. licensed patio just outside the dining room. Now, you can choose to have your meal outside while enjoying the natural beauty of Abram Lake. Or, you can eat your dinner inside and join us outside for an after dinner cocktail. We now have craft beer on tap too and they go down great after a day of fishing in the sun on the lake.
Another nice touch adjacent to the dining room is a small cocktail lounge. A place where you can have a quiet drink and watch your favorite sports' event on the most up to date satellite TV equipment available or if you have brought your lap top, tap into our High Speed Wireless Internet. We feel that in spite of the fact that you are in the remote north it's pretty nice to watch Headline News or Sportcenter or touch base with the office (if you absolutely have to)!
Make sure you pay special attention to the page featuring our cabins. All the comfort of home and totally first class compared to any fishing resort. These 1st Class cabins extend to our Fly In Outpost operation as well. The cabins are NEW, state of the art facilities for Fly-Ins, placing some of the most appreciated comforts of home, right out Mother Nature's back door. Our fishing vacations will always be about providing our guests with the best, most comfortable accommodations, regardless of the type of package you reserve.

If the best cabins are not enough to convince you, take a look at the equipment that is supplied in your package. We offer two kinds of boats, the first is a 16′ unsinkable Lund with a new 30 h.p. four stroke Mercury engine, or if you prefer more comfort, we offer you a custom-built 21′ Bowrider with a new 150 h.p. Mercury four stroke engine and a new 9.9 h.p. four stroke Mercury trolling engine. Very few camps offer choices, not to mention new motors each year.
Now let's talk about the real deal of a fishing vacation – FISH! You can fish for 5 species, not just the two or three you find in many other places. Not to mention a choice of 9 lakes including the legendary Lac Seul! Not like other camps – choices of one or two bodies of water and they "cringe" at the thought of taking equipment to another lake for their guest's convenience.
Look at the pages that feature our guests with catches from this past season and pay special attention to the list of names from the Sioux Lookout District Master Angler Release Awards Program. Most areas don't have an Angler Awards Program let alone pay their guests' entry fee. We even have a Junior Angler Program that keeps the kids competitive. It's about you!
Finally, look at the page featuring our guiding staff. There isn't a team in Sioux Lookout that can begin to compare. Never mind Sioux Lookout – Ha! probably the best guide staff in Northwestern Ontario. With all of these guys working together every day on these lakes, you wanna bet they're gonna put you on fish in a heart beat -with a "let's get it on attitude"!
Now really for the best reason you need to come to Anderson's …. it's the people! The single most important asset of any operation is the people. In the past it has been said that all of the people in our operation have 4-wheel drive attitude, then a guest said hey, wait a minute … "staff at Anderson's Lodge have an all-wheel drive attitude, there isn't anything they can't or won't do to please a guest or to get the job done right".
We are a dedicated crew who will not be satisfied with second best. We believe the key to success is doing ordinary things "extraordinarily well" where the focus is on you and your successful fishing vacation. 
For more information go to our website at www.andersonslodge.com.