Article Category:
Hunting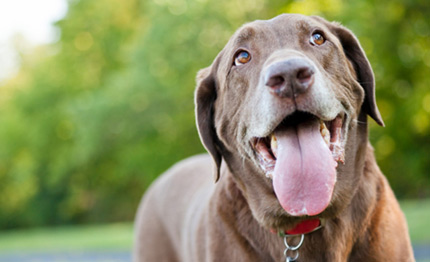 Hunting dogs can be very useful companions for a hunting trip. Hunting dogs can smell out animals, find and retrieve hunted animals, and offer protection. Hunting dogs are commonly used for bird hunting, although they are also used for larger game.
Choosing a Puppy
When choosing a puppy to train into a hunting dog it is very important to pick from a reputable breeder. Choose a puppy by looking at it's genetics: is the mom and dad trained? Do they have experience as hunting dogs? What are their temperaments? Genetics play a large role in the success you will have training your dog.Breeders that produce dogs with bloodlines that are proven as successfully. Line breeding intensifies positive qualities in puppies. Some positive qualities that may be influenced by bloodline include a calm temperament, natural delivery to hand, love of water, retrieving desire, intelligence and tractability. To test the hunting dog's temperament, try holding the pup on it's back for a minute and seeing out it reacts. Negative traits include hyperactivity, shyness, aggressiveness, dominance and excessive toughness. It is also important to look into genetic-related problems that may occur by asking the breeder about the parents. If either of the parents has a genetic disorder, you will want to know.
Top breeds
Choosing a the right hunting dog breed is very important. When choosing a breed, there are many factors to take in. Will you want a large or small hunting dog? What type of game are you going to be using your hunting dog for? Are you also looking for a hunting dog that is family-friendly? What type of environment will your dog be hunting in? Will your hunting dog be required to swim? Considering these factors will help you choose the best hunting dog to suit your needs.
Golden retrievers make are a great breed of water-fowl hunting dogs. They are typically intelligent, obedient and have long attention spans. They generally love water, and have webbed feet which help them swim and retrieve water fowl. Retrievers have soft mouths and don't damage the game. They also have great temperaments and make wonderful family dogs.
Labradors are a popular choice for a hunting dog. They are commonly used for hunting waterfowl. They have a double coat of fur that can protect them from cold water temperatures. They also have webbed feet, which help them swim, muscular bodies, and thick tails which help them swim. Labradors are more successful with training at a younger age due to their ability to mature much faster than other breeds of dogs, and intelligence level. Labradors are also very family-friendly. It is no surprise that Labradors are the most registered dog in America.
Another popular hunting dog is English Springer Spaniel. English Springers are smaller in size than Labradors. However, their energy levels are much higher. They can cover a lot of ground. This breed also has a much stronger retrieving instinct. They have a good sense of smell, and a strong desire to please their owners. They work well with a family due to their positive temperament.
English setters are a breed also often used for hunting. English setters also have a great sense of smell. They are known for pointing their owners in the direction of game. English setters have great noses, and because of their pointing ability make great grouse hunting dogs.
Chessies are a breed of hunting dogs that are bred completely within the U.S. They are built even more solid that labs, and have a similar thick coat and webbed feet which help them swim. Chessies love to swim, and are typically eager to retrieve. They are one of the most ideal dogs for bird hunting. Unlike labs, they mature at a much slower rate. They often take longer to train that labs. However, once trained, they will retrieve even in the harshest conditions.
Next, is the English pointer. This breed of dog works through extremely difficult conditions to retrieve. This is an important trait to consider when choosing a hunting dog. Unlike labs and chessies, pointers have a thin coat. The thin coat helps keep them cool. They are excellent at pointing. They have high energy levels, but still can make good family dogs. They are great for field hunting, and are able to hold on to a point for a long period of time.
Beagles make a great choice for a hunting dog based off of their great sense of smell and their ability to be a good family dog. Beagles are known for their incessant barking. They will pursue rabbits with incomparable excitement. Beagles are one of the top three scent dog breeds in America. They have a great temperament and are often described as being very friendly. They are smaller dogs, making them a good choice for owners that don't have a lot of room. Beagles are the best dog breed to choose for hunting rabbits.
English foxhounds are another popular type of dog breed for hunters to choose. In fact, foxhounds were the choice of George Washington. Foxhounds, as their names give away, are the ideal breed of dog for fox hunting. However, they also are great hunting dogs for deer running. Foxhounds are very energetic and have very high stamina and a great nose. They love to chase, and will stop at nothing to get a deer.
Training Essentials
The first thing you will need to train your dog is a crate for traveling. Crate training should start at home. It is important to get your future huntingdog comfortable in the crate, and to get them to enjoy it. Your hunting dog should be kept in his crate to sleep at night. The crate should be his comfortable place. It is important to be consistent with this. Once your hunting dog enjoys being in his crate, you can take him with you in it on trips in the car. These trips should be places where your pup can enjoy himself, such as a park. By taking your hunting dog on fun trips in his crate he will begin to look forward to going on crated car trips.
Socializing your future hunting dog is also very important, especially if he is going to be a family dog and you have children. The good news is, socializing your hunting dog is relatively easy. Playing with family members and other family pets is a great start. However, it is a good idea to bring your dog around strangers and unknown animals. Taking your dog on frequent walks or to dog parks can help socialize your hunting dog.
You can begin training your hunting dog for outdoor conditions by allowing him to run free in fields and the bush. He will learn to overcome the terrain, explore, and will likely build his strength, endurance and predatory drive. It is important to introduce your hunting dog to water and swimming from a young age as well, especially if you will be training him to hunt water fowl. Start by playing fetch in shallow water. As he becomes a stronger swimmer, through the toy further and further. Reward him with treats for returning the toy.
Training
Now that your hunting dog is well socialized, it is time to start training it basic commands. The first thing you want to train your dog to do is fetch. Buy some dummies, a training whistle, and a lead. Next, simply play fetch with your hunting dog. They key is to only throw the dummie up to four times. Any more and the dog may get bored. These fetch sessions should be fun and playful. You are creating a bond with your hunting dog and showing him that retrieving can be fun. After some of these dummie fetch sessions, you can introduce your hunting dog to feathers. Bird wings can be a great start. Playing fetch in the hallway is a good idea because it limits areas the hunting dog can roam, forcing him to return to you.
When training your hunting dog for birds, it is a good idea to start with a cold, dead bird. That way the bird won't move and scare the dog, or over excite him. Allow your hunting dog to hold the bird but be sure to stop him from shaking or biting hard on it. You don't want your future hunting dog to mishandle your future game. Some breeds , such as golden retrievers and cocker spaniels, are known for their soft mouths which may be something you want to consider when choosing a hunting dog.
It is also important to get your hunting dog used to the sound gunfire. There are some important things to avoid doing around your young hunting dog of you do not want him to become gun shy. Never fire a gun to see how he initially reacts to the sound. Do not take your dog to a shooting range as an introduction- it was be overwhelming. Do not take your dog hunting until it has become accustomed to gunfire. Never allow your dog around fireworks, or other loud noises such as thunderstorms. When you first get your hunting dog home, make as much noise around him as possible. Shut doors, stomp feet, clap hands, etc. Do this while your hunting dog is enjoying himself. That way loud, sudden noises will become normal to him. Watch your pups reactions to these noises. Hunting dogs need to get used to the sight of a gun on top of the sound. Carry a gun on walks, or having it present during feeding times. That way the hunting dog will associate the sight of a gun with good experiences. If you have children, choose a toy rifle that looks similar to your gun so that you don't leave guns laying around the house.
The next step is to tie birds and guns together. Take your young hunting dog out to a field and allow him to find and chase birds on his own. Bring your gun with you during these outings, but do not shoot. Seeing the gun during these trips will help your dog associate guns with birds. Once you have done this several times with your young hunting dog, you can add gunfire. At this point, don't worry about your young hunting dog pointing or flushing. You simply want your dog to be as bird crazy as possible. Place birds for your hunting dog to find and let him find them. Once he find them, fire your gun. If the dog seems startled or distracted at all, repeat this but without the gunfire. Eventually you want the dog to continue hunting without being distracted by the gunfire. It is important to build your hunting dog's confidence and association between guns and birds.
Raising a hunting dog can be a very rewarding experience. The keys of raising a good companion are choosing the right hunting dog breeder,choosing the right breed, patience, time and energy. However, the payoff is worth it. In the end you will have a hunting dog to help make your hunting trips that much more successful. Happy hunting!