Article Category:
Fishing
Lac Seul Walleye Fishing
If you are looking for "Walleye Heaven", then a Lac Seul Walleye fishing trip is the trip for you.  Located in scenic Northwestern Ontario, Lac Seul is a crescent shaped reservoir that stretches almost 100 miles in length from the communities of Ear Falls in the west to Sioux Lookout in the east and occupies more than 579 square miles.  It has a maximum (regulated) depth of 154 feet, with a surface elevation of 1170 feet above sea level and is the second largest body of water entirely within the province of Ontario. Lac Seul consists of open water bays, narrow channels, and islands, all providing numerous locations for a great walleye fishing spot to call your own. When Lac Seul Walleye fishing, you may notice it is a relatively shallow lake with many rock shoals. It noted for it's remote wilderness and opportunity for some of the best walleye fishing in Ontario.
Lac Seul is located on the former lake bed of glacial Lake Agassiz. Due to this previous lake, much of the bottom of the Lac Seul is covered with thick deposits of lacustrine silts and varved clay of varying thickness. The water clarity and colour of Lac Seul is tea colored. In clear water Walleye only feed at dusk and dawn because of their light-sensitive eyes, but because of Lac Seul's  tea colored waters excellent Walleye fishing opportunities are abound throughout the entire day.
The History of Lac Seul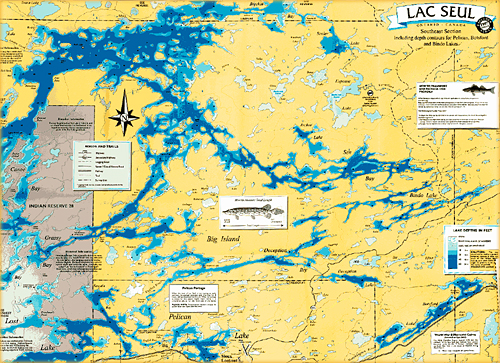 Long before Lac Seul was formed, the area was a massive valley with rivers, steams and small isolated lakes that were stuffed with Walleyes. In 1929 the Ear Falls Hydro Electric Dam was constructed and the area was flooded forming what is called present day Lac Seul. Isolated pockets of Walleyes in small lakes as well as the Walleyes living in the
Lac Seul is a very nutrient rich lake and fed by many streams and rivers including the Root River, the English River and the Vermilion River. Depending on the time of year, water flow through Lac Seul can be anywhere between 500 and 6000 cubic feet per second. This has kept the water in the lake fresh and highly oxygenated as well as keeping a neutral PH balance. This combination of factors has enabled many species of plants, which Walleyes love, such as Musky Cabbage, Pickerel Weed, Duck Weed, Canary Weed, Tape Grass and Plantain to flourish, making Lac Seul and ideal lake for a fishing. Shoreline plants such as Wild Rice, Lilly Pads and Bulrush are also very common. Combining these species of plants with a diverse rocky to sandy bottom structure and the availability of beaches, sandbars and rivers for the Walleyes to spawn on, Lac Seul became the perfect Walleye fishing Lake.various streams and rivers came together creating a fresh and diverse gene pool, which enabled the Walleyes to be stronger, bigger and reproduce in massive numbers. To this day Lac Seul is still the best Walleye fishing lake in the world when considering size, numbers, fighting strength and taste.
Going by the scientific name of Sander vitreus , the more common name "Walleye", comes from the fact that the eyes of these fish, like those of lions, reflect white light. This "eyeshine" is the result of a light-gathering layer in the eyes called the tapetum lucidum, which allows the fish to see well in low-light conditions. In fact, many anglers go fishing for walleyes at night since this is when major feeding patterns occur and it can be benefical to troll for moonlit eyes. The fish's eyes also allow them to see well in lakes with less than average water clarity and colour(stained or rough, breaking waters), which gives them an advantage over their prey. Thus, when fishing walleye anglers will commonly look for days and locations where there is a good "walleye chop" (i.e., rough water or a transition zone). This excellent vision also allows the fish to populate the deeper regions in a lake, and they can often be found in deeper water, particularly during the warmest part of the summer.
All About Walleye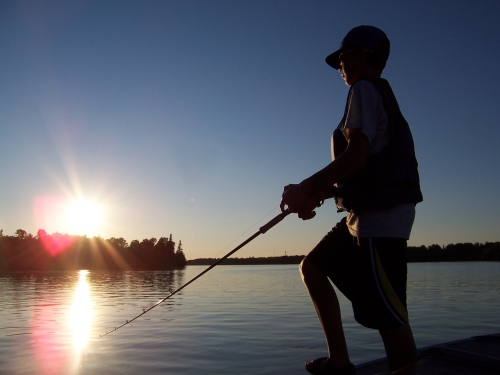 Walleye are largely olive and gold in colour (hence the French common name: doré — golden). The dorsal side of a walleye is olive, grading into a golden hue on the flanks. The olive/gold pattern is broken up by five darker saddles that extend to the upper sides. The colour shades to white on the belly. The mouth of a walleye is large and is armed with many sharp teeth. The first dorsal and anal fins are spinous, as is the operculum or hard bony flap covering the gills. Walleyes are distinguished from their close cousin the sauger by the white spot on the lower lobe of the caudal or tail fin which is absent on the sauger. In addition, the two dorsals and the caudal fin of the sauger are marked with distinctive rows of black dots which are absent from or indistinct on the same fins of walleyes.  Walleye are well known for their white,firm and delicately tasting flesh which makes them perfect for fishing for a tasty Canadian shore lunch.
On a Lac Seul Walleye Fishing trip, it's not uncommon to catch 80 Walleyes or even more in a day. There are many fishing spots on Lac Seul that will provide you with non-stop walleye fishing action. These fishing areas are usually stocked with schools of smaller males most commonly weighing in the 1 to 2.5 pound range. Scattered amongst them will be bigger Walleyes and you should be able to catch several that are around 3 pounds and a few larger fish weighing in the 4 to 6 pound range. Catching Walleye after Walleye is very entertaining and what most people booking Lac Seul walleye fishing trips are searching for. It's especially thrilling for new anglers that have never experienced fishing and this kind of action but still captivating enough for the serious fishermen. Lac Seul offers more than just numbers; Lac Seul is famous for big Canada trophy Walleye.  The past few years, the Sioux Lookout Master Angler Program has recorded several walleye catches over 32" in Lac Seul.
Lac Seul Fishing Tips
There are specific fishing regulations for the Lac Seul water system so make sure you check them out before hitting the lake.  The possession and size limits as set out in the Ministry of Natural Resources regulations are: Lac Seul, including Broad, Sunlight, Root River, Vaughan (Whitefish Lake) and Lost Lakes, and Wenasaga River from the first rapids upstream from Lac Seul approx. 3 km downstream to the last group of islands. – Walleye and sauger – none between 46-53 cm (18.1-20.9 in.), not more than 1 greater than 53 cm (20.9 in.). No person may possess any live fish taken by angling other than bait-fish. The size limits help to maintain a healthy breeding population making Lac Seul a first class fishery.  Fishing season opens the 3rd Saturday in May and closes April 14 of the following year.  The only exception to this is in Vaughn Lake.  As it is a fish sanctuary, Vaughn Lake season opens on June 15th. Lac Seul anglers are required to have in their possession a valid Outdoors Card with an attached fishing licence tag.  The complete Ontario Fishing Regulations can be found on the Ministry of Natural Resources website.
Lac Seul Walleye fishing tactics vary from season to season and also on the time of day you might find yourself fishing on Lac Seul in search of a trophy walleye.  When fishing n the spring months of May and June, the walleye are more specific from a location perspective. With the spawning season complete, the fishing is ideal in the shallows along the river mouths and shoreline areas with plenty of rubble as a large portion of Lac Seul Walleye are shoal spawners. Fishing during the daylight hours with small metallic coloured spoons is certain to produce results and jigs of various colours are very effective as well. The key with jigs is to be able to feel the lake bottom. When Lac Seul Walleye fishing, make sure to adjust the weight of your jig according to depth and speed. If you are fishing in shallow water on Lac Seul or are anchored and sitting still, go light.  If it's deep, or the wind is blowing hard, go fishing with a heavier weight jig. When fishing in the summer months of July and August the walleye tend to spread out into all areas of Lac Seul.  The weather is ideal and the walleye fishing is explosive. The walleye remain shallow and within easy reach due to Lac Seul's water's coloration. When fishing, it is a good idea to use a sonar unit to locate underwater reefs, submerged timbers and long-tapering points in water 5 to 20 feet deep. During the daylight hours in July and August, the walleye can also be found in the weedy areas of Lac Seul where they congregate in search of bugs, minnows and small perch. During these months, the larger fish tend to head for deeper water and fishing the open water and deep reefs after dark has been known to produce quality fish rather than quantities.
The autumn Lac Seul Walleye fishing still produces great fish.  These months bring the fishing back into shallow waters and offer up some exciting casting action. Perch coloured trolling crank baits and trolling weighted spinners like Little Joes tipped with a minnow are suggested techniques. Trophy Walleye fishing in Lac Seul  is also excellent at dusk when the larger females come out of the deeper water and go right into the shallows to hunt prey. This is the case for night walleye fishing. In Lac Seul's tea stained water, flashy crawler harnesses and spinners work to catch the fish's attention but bottom bouncers and jigs also work exceptionally well.  Using minnows for fishing bait is usually a better option than leeches, night crawlers, rubber twister tails or scented rubber baits but all have caught some great Lac Seul Walleye.
Don't think that the warmer months are the only time for some great Lac Seul Walleye Fishing- winter provides the ideal setting to partake in snowmobiling, snow shoeing and of course, ice fishing. Although the weather may seem cold at times, the action and excitement will certainly warm you up quickly.  On Lac Seul, the winter walleye can be found in depths ranging from 20 to 30feet. The Lac Seul First Nation holds an Annual United Ice Fishing Derby each February. Many holes are drilled into the lake and anglers are entered into a lotto to pick their hole. The fishing derby lasts about 4 hours and afterwards everyone meets at Frenchman's Head Complex where awards are given out. There are many prizes ranging in size. It is an all fish derby, with the heaviest fish winning.
Other Fish in Lac Seul
Walleye isn't the only sought after fish species on Lac Seul.  People also often go fishing in search for aggressive Northern Pike, record size Muskie, chunky Smallmouth Bass, plentiful Perch and Whitefish.  Small-to-medium-sized Northern Pike can be caught in numbers throughout the season but larger fish that can tip the scales at up to 32 pounds have been recorded. In fact, the opening of Walleye fishing season in May is when some of the biggest Northern Pike are caught. Muskie can grow large in Lac Seul and 40 pound fish are brought in every year. There is a strict catch and release policy when fishing on all muskies caught in Lac Seul and this is working to ensure that the fishery will continue to get better and better. June is definitely the peak month for bass fishing as they tend to move out to deeper water after the spawn. Lac Seul Perch can be caught all year round and are known to be found in the same shallow spots as the walleye. Whitefish are an abundant species in Lac Seul and it's not uncommon to catch one fishing while targeting walleye or pike.
If you are looking for lodging on Lac Seul for your walleye fishing trip, there are quite a number of lodges, resorts and camps offering accommodations ranging from rustic fly-in housekeeping cabins to first class drive-in American Plan facilities. Want to try something a little out of the ordinary, then consider a houseboat rental or a boat-in lodge.  These accommodators will be able to answer all of the questions you might have about vacationing and fishing on Lac Seul and will help you plan a great fishing trip.  If you're looking for some help in choosing a place to stay on your Lac Seul walleye fishing trip, check out our outfitter search page at http://www.freemap.ca/outfitter_search.php. Call one of them now to reserve your little piece of Lac Seul "Walleye Heaven".