Article Category:
Fishing
By Robert Brodhagen
Is this the main reason for the massive migration of the average, American fisherman to Canada each season? I truly believe in the overall Canadian wilderness experience. Some combination of grass routes, mother nature, and the "Stop and smell the flowers" sort of thing that only the Patricia Region Canada's Heartland can offer.
Nevertheless, every angler's dream is to catch a trophy fish in whatever species and Old Marble Eyes is right up there at the top of the list for many. If you are one of those fishermen who is still looking at the empty spot on the wall of your den or office reserved for your trophy walleye, then my own personal plan for putting those odds in your favor may interest you.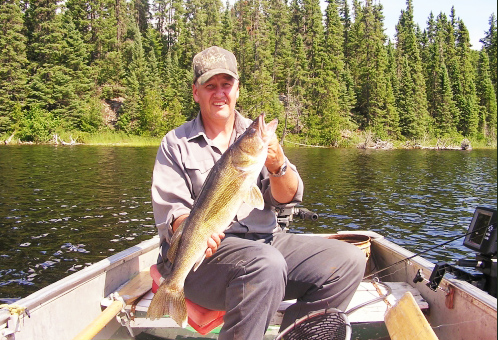 A word of warning: Some of this could be boring especially to those who have a presentation, presentation, presentation, mentality instead of a location, location, location. The key to any successful business (let's use McDonald's as an example) is the location. They spend countless dollars to research high-traffic areas in cities and pay big to get the right property because, in the long run, they know it will pay off. When the location has been decided upon, then and only then did presentation come into play. And so it is with most things, and finding those hog walleye is no exception.
Let's begin our research. Many people have personal computers and this is really a good way to keep the information you gather and for making comparisons. First, we should define a trophy walleye. 26 to 28-inch walleye are big fish and at the top end of the spawning chain. These fish should definitely be put back after a quick picture. 28 to 30-inch walleye are trophies in many anglers' eyes but in my opinion they should also be released after a quick picture and proper measurements of the length and girth taken for that possible replica mount. Those of you who don't have your own den or office may find that you really don't have a spot on the wall once other family members cast their votes. No harm done when the fish is released, other than a wounded ego. The picture is a great memento for the time being and who knows? Maybe your new wife will see things differently (just kidding).
I'm sure that any serious fisherman will agree that the 30-inch plus fish is considered an honest-to-goodness hog walleye and deserves special recognition. Again, i encourage the longer-lasting, easier to clean and repair replica as the best way to go. It is true, however, that most fish of this size are in their final years of growth and could die soon of old age, justifying to some a skin mount.
WHERE DO WE FIND SUCH FISH?
HOW DO I FIND OUT WHICH LAKES HAVE BIG WALLEYE?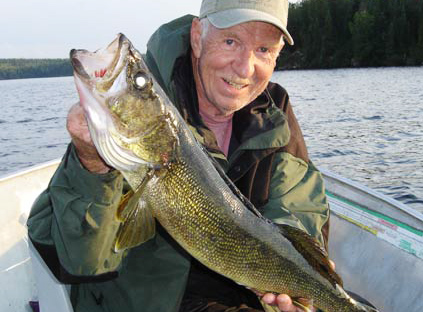 Ask. Go to some fishing/hunting oriented sport shows and take your notebook. Tell the camp owners what you are looking for and ask if many 30 inch plus walleye have been caught in this lake system. If the answer is yes, look at his photos and the dates if possible. Get several references. Repeat guests are the most informative because of what they have seen, hooked, and hopefully released over their numerous visits. Make sure that if you intend to go in August, your references are from August. Most camp operators tell some great fishing stories and that is as it should be. Of course, the references will help you establish his handicap in inches or pounds. A lake with a large amount of Walleye is Lac Seul.
CHOOSING A LAKE -BIG VS. SMALL
Research this area thoroughly for not all lakes are created equal. The "Big Water – Big Fish" theory works in many cases and you may have decided on one which has had a lot of publicity. Lac Seul, which is one of these larger systems, has just shy of 350,00 acres with many fishing camps from which to choose. Talk to as many as possible. Tell them your interest in trophy walleye and in relation to their camp, ask in which areas should you spend most of your time. Many outfitters rely on their guides for this type of fishing information. Compare your notes of locations. You may be able to find accommodation a little closer to the predominant area. Also, the time of the year is very important. Summer, big-fishing areas may differ substantially from those of the spring and fall. You must break a lake of this size into smaller sections in order to keep your line in the high potential areas as much as possible.
The most productive way to learn the ropes of "Big lake Fishing" is to hire a guide for the first two or three seasons. Hire the best and tip him well to acquire his secrets. If long boat rides are involved, make sure you pattern the route to avoid unseen reefs. A portable GPS may be part of the answer.
Some smaller lakes have big walleye. Ask around and listen to your fishing acquaintances. If the lake has a good number of trophy walleye, there should be several up-to-date pictures and several calls made to verify whether these large fish are caught once in a blue moon or that one to several are released each week.
Some obvious benefits of the smaller bodies of water are less time spent identifying the key areas. In many cases, being able to fish the early morning or late evening peak activity times in prime spots is not possible on the larger systems because of travel time.
In review, please remember our friendly Real Estate developers' motto of location, location, location.
Location #1 – Canada and most specifically for the average midwestern Fisherman, the Canadian Shield's watershed.
Location #2 – Specific lakes and rivers that produce big walleye on a regular basis. Research this thoroughly before you make a travel decision.
Location #3 – Big lake and/or river system versus smaller system.
Carefully weigh the pros and cons of both. Take into consideration your experience, equipment, and costs involved.