Article Category:
Travel
Winter Activities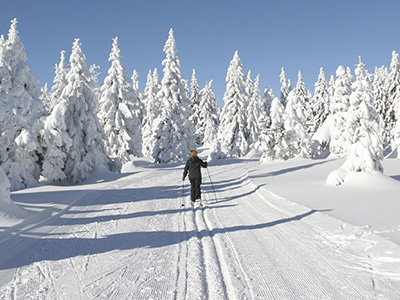 Winter In Canada provides the opportunity for many fun, & enjoyable activities. Some can be relaxing, while others provide the opportunity for getting your daily exercise. Whether you decide to hit up the lake in the middle of winter for some fresh fish, grab your snowshoes for a nice walk, go cross country skiing to view the country, or snowmobile, you are bound to have a memorable time.
Ice fishing
Ice fishing in Canada is a unique and rewarding experience. Why wait for fresh fish all winter when you can grab some bait and head out to the lake in the middle of winter? There is nothing better than walking on the a frozen Canadian lake, setting up some lines, and waiting for the magic to happen. The lakes in Northwestern Ontario hold walleye, pike, trout, bass, perch, crappies, and muskie. What could compare to a crisp breeze, the sun shining, and the anticipation of your first big catch of the day? When ice fishing, many people spend the day in an ice shack. An ice shack is a little shed that can be pulled onto the ice when it's thick enough. They are often heated by a wood stove, although it is a good idea to dress warm and prepare for the weather. Ice fisherman will bring out augers, and use them to drill holes in the ice around the ice shack. These holes will have a line attached to a rod, and the rod will be secured into the snow. Then, you sit back and wait for the fish to fall for your bait, and reel them in.
What to Bring:
A fishing rod, with reels and line
Bait
Pliers for removing the fish
Your fishing license and proper ID
An ice scoop for cleaning out the holes
Ice auger
Tackle
A compass/GPS
A place to store your fish
Warm clothes
Many people also bring food, drinks, a fish finder, a cell phone, a camera, an ice pick and much more, but these 10 items are the basic necessities!
Snowmobiling
Snowmobiling in Canada is a fun, exciting experience. It also offers the opportunity to explore new areas and view some beautiful winter Canadian scenery. For some, snowmobiling is a way of life. Snowmobiles were actually a Canadian invention, invented by Joseph-Armand Bombardier. When he was 15, Joseph's father gave him an old Ford truck. He removed the motor from the old truck and put it on a four-passenger sleigh. He also attached a propellor and drove his new invention, the first snow machine, through his town. He continued to improve on his invention, and on June 29, 1937 he was granted a patent. He named his little business "L'Auto-Neige Bombardier", and had great success. Now, there are millions of registered snowmobiles world wide, used in every area of the world that has snow. There are four major snow mobile manufacturers today: Arctic Cat, BRP, Polaris Industries and Yamaha. Snowmobiles are used recreationally, for traveling and for work or fishing. Recreationally, many Canadians snowmobile on the many groomed trails throughout the area. The trails are well-kept and can be used to travel to many different municipalities in the area. On the trails, you can go all the way North to Ear Falls or Red Lake, or South to Sioux Narrows, Rainy River, or Emo. Trails also go West and East, giving access to Vermilion Bay, Dryden and Sioux Lookout. Families can enjoy snowmobiling together as a family activity. Children can ride in a sleigh attached to the back! Of course, everyone must wear helmets to stay safe. Snowmobiles are also useful for reaching hard to access lakes for ice fishing.
Snowshoeing
Canadians have been enjoying snowshoeing for many, many years. Snow shoes are a type of footwear that evenly distribute weight, making it easier to walk on snow. There are many different designs of snowshoes on the market. Snowshoes are curved at the tip, preventing snow from piling up. Traditional snowshoes have a wood frame with rawhide netting. There are leather flaps which you place your feet in, and lace up using the rawhide lace. More modern snowshoes have a similar design, but are made using lightweight plastic and metals. Originally, snowshoes were used most often by trappers and fur traders in Canada. Today, snowshoes are used mainly for recreational use. Snowshoeing is an inexpensive, safe and fun Canadian activity. On steep or icy terrain, it may be more dangerous because the snowshoes can act like skis.
If you are going snowshoeing, it may be a good idea to bring:
Waterproof boots that are insulated
Backpack
Trekking poles/ski poles
Warm clothes
A GPS/compass
Cross-Country Skiing
Cross-country skiing is a fun recreational or competitive activity. It is fairly safe, as well as inexpensive with the one time price of the skis, and helps promote a healthy lifestyle. Cross country skiing can be a great family activity, and can help people access spots that are otherwise inaccessible. The skis are long and narrow, which helps distribute the skier's weight evenly and allows them to move smoothly and quickly over the snow. Your typical pair of skis will be about 2 meters (6 feet) long. The tip of the ski, like the snowshoe, is generally lifted slightly to prevent snow build up. They also have bindings which are used to keep the foot in place. Ski's have smooth bottoms which sometimes require waxing, although there are skis available that are wax-less. Traditionally, skis were made of only wood. More modern skis have synthetic foam cores and are made with fiberglass, or a synthetic coating over the wood layer. Cross-country skiing is quite popular in Northwestern Ontario, and their are several groomed trails for use. Recreational cross-country skiing is often referred to as "touring". Some cross-country tourists will go on long ski adventures and camp overnight. Others will spend a few hours on a maintained trail, just to enjoy the beautiful Canadian winter. Bring some skis out ice fishing and watch the kids have fun! Some outfitters may offer skis to rent, if not ask if their are any ski trails in the area! As a sport, cross-country skiing can be challenging as it requires use of every major muscle group.