Article Category:
Travel
Jump to: Chapter 0 Chapter 1 Chapter 2 Chapter 3 Chapter 4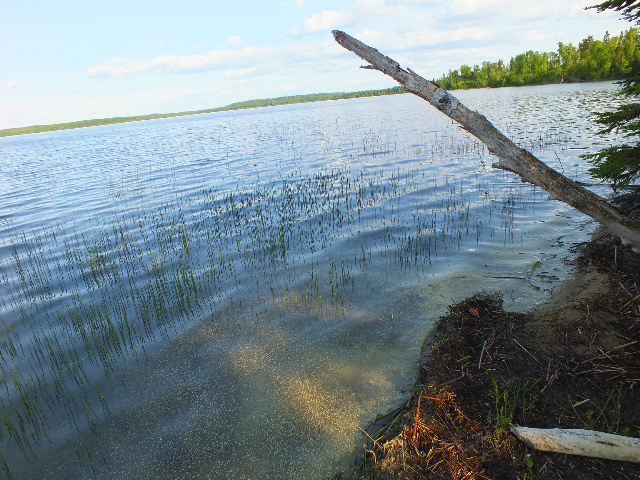 "The Last Resort" is a book written by Irene Williams and outlines her life story as she travels from England to the great Canadian North. She recants the tales of coming to Canada and working at Wine Lake Camp – a primitive, remote tourist lodge in Northwestern Ontario. Her writing captures the many adventures and thrills she and her family experience over several decades at the camp and how she comes to love the lifestyle. The full novel is available for purchase at Sleepy Dog Cabins. Email: sleepydog@tbaytel.net Website: www.sleepydogcabins.com Phone: (807) 529- 3165
Chapter 0
As a young child I used to sit in the dining room while Mum told stories to the Americans about her life here in Canada. Even though I heard the stories more than once, I always enjoyed them and wanted to have a record for my children and grandchildren. A few years ago, I gave Mum a blank book and told her to start writing. She didn't know where to start but as you can see, she had a hard time stopping!
I told her not to include everything in this first edition but to save a few of the best for the sequel.
For all of you who know her, you can picture her in your mind telling these stories with that English accent that she has never lost. The typewriter that I used couldn't do English accents so I just did it the normal way. Hope that's alright.
Many people requested that Mum write a book because she has had such an unusual life. It's not everyone that could've adjusted to living in such a primitive environment after coming from the heart of London, England.
I have a great respect for both my mother and my father and I know that my sister and brothers will agree that we are indeed fortunate to have such an upbringing.
Wine lake will always be special to us. I could never understand why people would go twelve hundred miles to go to Wine Lake but now I, myself travel that distance and now I understand why.
Thanks Mum from all of us!
Susan Darlington ('89)
Chapter 1
Since coming to Canada in 1946, so many people have asked me to write a book. I expect that the Americans that I have met wondered what on earth an English Woman was doing in such a remote place – living in a little log cabin surrounded by water, miles and miles from civilization. That's probably one of the reasons they wanted me to write this book. After much thought and encouragement from my family, here is the story of my life as I have lived it in Canada.
I worked for a beautiful society lady in Knightsbridge, London. One of my duties was to care for her little Sally Ann whom I thought was the most beautiful little girl. I am sure other people thought the same as I often had photographers ask if they could take pictures of Sally Ann. Quite often her picture would appear on the front page of the Evening News under such headings as "Little Sally Ann goes shopping" or "Sally Ann at play."
I used to feel so proud when I took Sally Ann out — people would stop and talk to her and tell me what a pretty little girl she was. I am sure people thought she was my little girl.
One beautiful day, I was taking my little three year old son Richard and Sally Ann to Hyde Park to play. Hyde Park was a lovely place, always something going on — bands playing in the afternoons and evenings; lots of children playing; swings and slides to play on; an open air tea garden, and the best of all, there was the Serpentine (a lake with lots of ducks to feed.) The children always had crumbs to feed to the ducks. Well, I settled myself on the park bench to read my book while the children played. Sally Ann was in a pink sun suit and Richard in a yellow outfit. I could see them out of the corner of my eye playing with other children. All of a sudden I realized the little girl in pink was not Sally Ann. I quickly called to Richard: "Where is Sally Ann?" He pointed to the bid sanctuary and I saw a soldier — a Canadian soldier at that, giving Sally Ann chocolate.
I rushed over to them and took the chocolate away from Sally Ann and gave it back to the soldier explaining that Sally Ann was not allowed to accept anything from strangers especially chocolate or any kind of sweets. Well, the soldier couldn't understand that and thought that it was very strange, considering that it was wartime and everything was rationed. Anyway, I said goodbye to him and left.
The next day being another beautiful day, we went off to Hyde Park again as it was only a hop, skip and a jump away from where I worked. I had my book and the children had their bags of crumbs to feed the ducks. I hadn't been reading too long when I heard this little cough and that same Canadian soldier was standing there. I looked at him — he wasn't at all bad looking. Good strong white teeth and clean fingernails.
This soldier asked if he could sit down. When I said "Yes" he sat down and proceeded to tell me that he was on leave but stationed in Brighton. He had come to London for a visit and found that he had let his wallet on the platform seat in Brighton railway station and was waiting to hear if it had been found. He also told me that he didn't have any money. Well, I wasn't about to give him any if that was what he was hinting. We sat and chatted for awhile. He told me his name was Arthur Williams and that he came from a small town in Northwestern Ontario. He said he would be very glad when he would be shipped back to Canada as he was homesick. Of course I sympathized with him and wished him well. I said "Goodbye" and left.
I decided I wasn't going to Hyde Park for at least a week, in case I ran into him again, so the next day I took the children to St. James Park, but they certainly didn't like it there. No Serpentine-no ducks-no-swings or slides and worst of all no little children to play with. They very soon wanted to go back to Hyde Park. I told them that it was too late to go and I would take them home and read them a fairy story, so that's what we did. Needless to say, the children didn't want to go to St. James Park again so we took a bus to St. Georges Park. Not too much doing there either but there was a lovely tree called "Peter Pan Tree." I has lots of little elves and fairies all carved in the bark; gnomes, rabbits and mice sitting on little mushrooms. It is so pretty and the children loved it but after you've looked at a tree for half an hour, what else is there to do? Of course that it was too late so we spent the rest of the afternoon where we were. I never intended to go back to Hyde Park for at least a week and I would never have gone back had I known how different my life was going to be.
Anyway, the children made such a fuss about my not taking them to the park that I took them there. Who do you think I ran into? Yes, you've guessed it. Arthur! He told me that his wallet had be found and sent on to him, and then after we had talked for awhile, he asked me if I would like to go to a show with him that evening. Well, what could I say? He looked kind of lonely and what the heck, it was wartime and I would probably never see him again. I said I would and surprisingly enough we had quite a nice time.
Arthur told me about himself. He had four brothers and three sisters. Two of his brothers were in England – one in the Air Force and one in the Armour division. Arthur had met George in France sitting by his burnt out tank but he never did see Charlie until they were back in Canada. Arthur's father died while Arthur was still young and his mother was living in a place called Ear Falls.
I saw Arthur a good many times after that. He was now stationed in the village of Godalmin in Surrey. He would catch the afternoon train to London and go on the midnight train back to Godalmin. I did go to Godalmin once to see him and we went out for supper, then to a pub as it was raining hard. There usually was lots of entertainment going on in a pub but we were the only two in there as it was early. When a young boy came to see who had come in, he called out: "it's only a Canadian and his tart." I was so mad that I told Arthur to take me out of there and I never went back to Godalmin again.
On his last night, Arthur told me he was being sent back to France and if he wrote to me, would I answer his letters. I said I would as I thought I would never see him again. After all, he was a Canadian and would most certainly be shipped back to Canada. How was I to know that I was fated to go to Canada?
I would have had some inkling because two months before I met Arthur, a gypsy woman had come to the door and as soon as I had opening the door, she said; "Oh, my dear, there's tears and tears in store for you – such a dark cloud around you. if you cross my palm with silver, I will tell you your fortune." I really didn't believe in that sort of thing but she had raised my interest so I gave her a shilling which was a lot of money in those days. She took my hand and started to tell my fortune. She told me that I would meet a dark stranger . I would cross big water and live in a land of snow and pine and that the Union Jack would not be my flag for much longer. I would have three children and my life was going to be very hard. I would cry and cry and cry but that dark cloud did have a silver lining and if I crossed her palm with a pound note, she would take out her crystal ball and give me the initials of the man I was going to marry.
I did not have a pound note and I don't know that I would have given it to her if I had, but I have often wondered if the initials would have been A.W. because everything the gypsy told me came true.
Chapter 2
Well, Arthur wrote to me and like a dumb cluck, I answered his letters. How was I to know that he would be stationed in London again? No little bells went off in my head to tell me he was the dark stranger in my future. I suppose it would be an understatement if I said I was surprised to see Arthur again. I was absolutely dumbfounded when the doorbell and and there was Arthur standing there. He had only been away six weeks. I expect he could see that I was shocked at seeing him. He hadn't mentioned in his letters that he was coming to London.
He said he would phone back later, which he did. I said I would meet him in Hyde Park the next afternoon.
The weather was getting cooler now so we didn't sit too long in the Park. Arthur suggested that we take the children to Marble Arch and have tea there. The children liked that and they also liked Arthur because he would play with them. We continued meeting for tea in the afternoon and then we'd go to the pictures in the evening. After the pictures we would go into a pub. I didn't drink but Arthur liked to have a beer. There was always lots of entertainment in a pub and more so now that London was swarming with soldiers.
One day Arthur told me that he would soon be sent back to Canada and would I go and wash dishes for him? I looked at him thinking that he was joking but he was quite serious. Well, I had no intentions of washing dishes for him or anyone else. I had a very good easy job and a beautiful employer. I loved London. The hustle and bustle of a big city was music to my ears. I was so happy and I loved England so much. Wild horses wouldn't have dragged me away. Then whatever was it that made me say "yes"? To this day, I'll never know. I certainly didn't pay any heed to the gypsy's warning. I never even thought about it.
Arthur waster no time in getting all the necessary papers for me to sign. I had no idea that there was so much paperwork involved in getting into Canada. I had to have a health certificate from the Canadian doctor and one from my doctor; a character reference from my clergyman; one from my doctor and one from our M.P. I had to have all kinds of tests and I was getting pretty well fed-up with all this fuss so when Arthur phoned up to say he had more papers for me to sign, I said: "For goodness sake, let's call the whole thing off." With that, I slammed down the receiver. I should have known that when the doorbell rang, it would be Arthur. After a lot of arguments, I filled in the forms and Arthur took off with them before I changed my mind.
The next few weeks were hectic. I hadn't taken Arthur home to meet my parents so I thought I had better do that. What better time than Christmas, when the family would be altogether?
I am glad to say my parents liked Arthur as did the rest of the family. I don't think I would have married Arthur if my Dad hadn't liked him as he was a very good judge of character. Mind you, I had spent many hours wondering if I was doing the right thing. Leaving my parents, friends, my beautiful country — it was a hard decision to make. I expect a lot of other war brides had the same kind of feelings. When we got back to London, I had a Padre come to visit me and explain how different Canada was to England. Had I really made up my mind to go to Canada? I told him that I had already signed all the papers, and he said that they would be canceled. He told me to think about it. Well, I did think about it but how could I go back on my word?
Chapter 3
The Canadian Better Wives Bureau had written to Mr. Frank Bowman and Colonel Candlish asking them if Arthur was a trustworthy man and capable of looking after a wife and child. They both had written back saying that Arthur was a very hard worker; an honest and truthful man. I think I still have those letters. When the papers came through giving the Army's permission for Arthur to get married, we were married in Caxton Hall Registry Office on January 26th, 1946.
We spent part of our honeymoon with my parents in Turnbridge Wells and the rest of the honeymoon with my sister and her husband in Gloucestershire. Len, my brother-in-law drove us around quite a bit, and in spite of petrol and food rationing we had a very good time.
Arthur was sent back to Canada in March of that year and I continued my job of looking after Sally Ann for my beautiful employer. Ann was a high society lady who was always attending races, parties and theatres so I had lots of time with the children. I hadn't been working a month when I started feeling sick – very sick. It wasn't too long before I realized that I was pregnant. it was with great sadness that I had to leave my job and go back to my parents where I remained until my departure for Canada.
I cannot tell you my feelings when I had to say goodbye to my parents. It was very emotional and I came very near to not going.
My sister Vi, her husband and a friend came to London with me and there I had to leave them. I had to go with all the other war brides to this large building and after we were all registered we were free to go where we wished till ten o'clock that evening. If I had only known, I could've spent all that time with Vi, Len and Min.
The next morning, we were all taken by train to Liverpool where we boarded the "Francona"; the ship that would take us so far away to a strange land. We all had mixed feelings as we boarded that ship. Some of the girls were crying and I sure felt like it. Well, anyway, our sorrows were soon forgotten in the excitement of being on board a great ship. I had never had my feet off dry land before so it certainly was exciting for me.
The ship had been used as a troop ship so we were all in large cabins with hammock-like beds with little cots for the babies. There were about twelve mothers and five children in the cabin I was in, plus myself and my little boy Richard. Can you imagine all the noise going on? It took all of the afternoon for the nurses and stewards to get us settled and by that time we were all jolly hungry and ready to eat. When we finally reached the dining room we were each handed a milk carton. I looked at it and asked the nurse what it was for. She told me that it was to be used in case of sickness. What a laugh! I hd such a strong stomach so I wouldn't take one.
How our eyes bulged when we saw all that food. The tables were beautifully laid with white tablecloths, napkins and silverware. There were lovely white rolls with butter which we hadn't seen for four years. Our bread was very dark; our cakes bright yellow as they were made with powdered eggs and had no sugar or icing. I had always said that when the war was over I was going to buy a loaf of new bread, a pound of butter and eat it all myself. Of course I never did but I came near to it that day and made a real pig of myself with rolls and butter. There was loads of food — all kinds of soups, fish, meat, turkey, ham and all kinds of salads. What a choice we had. I had pork chops, apple sauce, mashed potatoes and brussel sprouts. I had a rich dessert with lots of real cream although the steward had tried to persuade me to have cold ham and salad with no dessert. I expect he could see I was getting pretty green about the gills, and boy it wasn't very long before I said to the girl sitting beside me; "Are you using this?" I snatched up her carton and used it. Boy, was I ever sick. All that delicious food gone to waste!
Chapter 4
The "Francona" sailed in the evening and you have no idea how lovely it was. We just glided along. We sat in deck chairs and watched all the seagulls flying around and thought how lovely everything was. The stewards came and brought us cups of bouillon, fancy crackers, tea, coffee and all sorts of dainty cakes. My word, I thought I was in heaven. I could live like this forever, or so I thought. Sometime during the night I felt the ship lurch and so did the other girls. I don't know what they thought but I immediately thought of the "Titanic." "Oh, my goodness, we've hit an iceberg." But how can we hit an iceberg in July? We got out of bed and staggered, literally staggered to the door. There we saw the nurses calming some of the girls. We had hit the Irish Sea. I never went into the dining room again for four days. I was so seasick and so was my poor little Richard. The nurse said that I would feel much better if I sat up on deck so in the afternoon I did go up to the top deck with Richard. I had made friends with several of the girls including the one whose carton I snatched. Her name was Peggy Kelly. She was going to a place called Campbellford in Ontario. I was going to Ontario too so we greed that we would meet every weekend. One weekend at her place and one weekend at mine. What a lot we had to learn!
Peggy was sitting on deck when I got there. She too had been sick along with her little girl. It was lovely on the boat but I could hardly wait to get my feet on solid ground again. The ship's doctor and captain were standing by the rails and I could see that they were talking about my little Richard. They noticed m looking at them and said to me: "Is that your little boy, Ma'am? They said: "He is going to be a very clever man if he is brought up properly." I felt very proud of that especially since lots of the other girls heard what was said. I was sure that Richard would be brought up properly.
How very happy and excited we were when we finally reached Halifax. At last our feet were on solid ground! Halifax was a beautiful place. I'll never forget the gleaming white buildings, the blue blue sky and water. I knew I was going to like Canada but do you know, there were some of the girls that wouldn't even get off the boat. They wanted to go right back to England without even giving Canada a chance. I don't know whatever happened to them.
I, myself was so busy getting our things and Richard ready to leave the ship that I didn't have a chance to find out. What a commotion it was. We all had to be tagged and had to sign papers. That took all morning.
I'll never forget the nice steward we had. The lock had been broken on my suitcase and he went and bought me a strap for my case. I was so grateful to him as I never would have managed without him.
After we were all tagged, we were all herded into this large building which I thought we were never coming out of. Of course we eventually did and were led to this tremendous great big train. We just stood and stared and stared. Our English trains were so small and compact but this huge train was unbelievable nd didn't seem to have an end to it. Some of the war brides would be going to different parts of Canada so we had to say goodbye to them. Peggy and I renewed our promise to meet each other every weekend. What a lot we had to learn! It was twenty-five years later that Peggy and I met again.