Article Category:
Travel
By Marilyn Bilsbarrow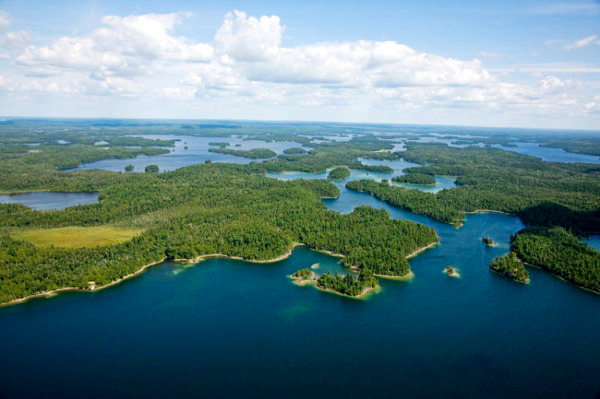 When spring arrives with warm sunshine to melt the snow and ice, a whole new world soon emerges in "CANADA'S HEARTLAND." Fish begin to spawn, bears come out of winter hibernation, leaves literally burst out in every imaginable shade of green and our hunting and fishing lodges are bustling o get ready for their guests. The Patricia Region offers almost any type of accommodation a visitor could require, and the opportunity exists to choose a destination that you can reach in just about any way imaginable – train, boat, plane, four wheel drive and automobile. Whether you prefer to be pampered with American Plan packages or want to look after youself with a Housekeeping Plan, travel by houseboat, stay at a remote outpost or take a canoe trip to one of our outfitters will gladly look after your needs.
We are indeed Canada's Heartland! Our southern boundary is just one hour north of International Falls, Minnesota and our northern boundary extends to the sub-arctic of the Hudson Bay lowlands.
Millions of years ago, the Heartland was carved by the Patrician glacier which sculpted the area and the ice literally created this beautiful, rugged wilderness with its thousand of lakes teeming with fish.
The Patricia Region which is approximately the size of the state of Minnesota has everything the fisherman, adventurer or sportsman could ever dream of.
Our friendly small towns offer warm welcomes year 'round and you will find all the conveniences and services required – tourist camps, motels, shopping, restaurants, lounges, gift shops, gas, bait, and tackle. Medical services are available. Whether you come to visit us in spring, winter, summer, or fall – you'll leave the stress of everyday life far behind. The only noises you are likely to hear is the mournful call of the loon, the howl of a wolf or the wind rustling through the leaves. A spectacular display of dancing northern lights will put an end to another perfect day in the Patricia Region. Picture yourself in this tranquil setting… Hope to see YOU here!