Article Category:
Travel
Jump to:
Chapter 5
Chapter 6
Chapter 7
Chapter 8
Chapter 9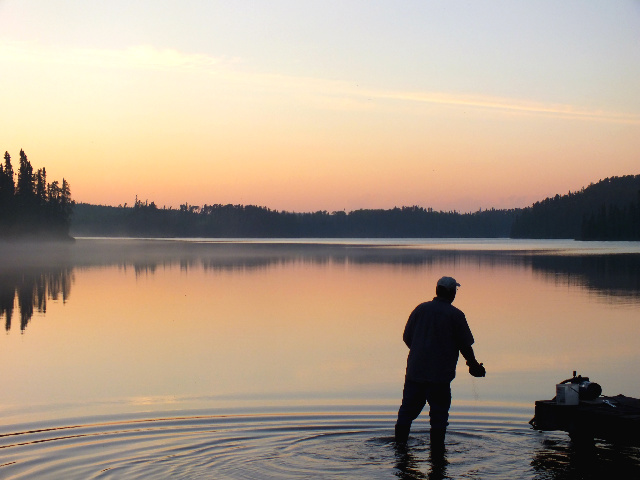 "The Last Resort" is a book written by Irene Williams and outlines her life story as she travels from England to the great Canadian North. She recants the tales of coming to Canada and working at Wine Lake Camp – a primitive, remote tourist lodge in Northwestern Ontario. Her writing captures the many adventures and thrills she and her family experience over several decades at the camp and how she comes to love the lifestyle. The full novel is available for purchase at Sleepy Dog Cabins. Email: sleepydog@tbaytel.net Website: www.sleepydogcabins.com Phone: (807) 529- 3165
Chapter 5
Well after all the goodbyes were said and a few tears shed, we boarded this beautiful train, we were all so hot and tired as we had been on our legs nearly all the day. It was such a relief to get a nice cool wash and sit in a cool train. I'm sure my little boy was dead tired as I know I was. We boarded the train around five o'clock in the afternoon and it was almost eight o'clock before all the passengers were accounted for and the train was able to move. There were four Red Cross nurses and one Caption to look after us besides endless porters and waiters. When everyone was settled in their selected seats, a porter came and told us that dinner was being served in the dining car.
My word, it was a wonder the porter and everyone else wasn't trampled to death in our rush to get to the dining car. We were all so hungry as it had been so long since we had eaten. The wait was certainly worth it. The food was out of this world! The tables were laid with beautiful white tablecloths, napkins and shiny silverware.
The porters and waiters were helpful and courteous. I am sure lots of them had mixed feelings about the trainful of war brides of 1946! I am certain that some of us would never be looked after as well as we were on the ship coming over and the train from Halifax. Everyone went out of their way to make our journey comfortable and enjoyable. It must have been very difficult for the personnel with so many people to look after.
When we had finished out wonderful meal, we made our way back to our coach. Imagine our surprise when we saw beds instead of seats! We had no idea how far we were going or how long our journey was going to take. Somehow, I had never expected to sleep on a train. I had never slept on a train before so this would be a new experience for me. We thought that sleeping on the train was wonderful but after two nights and days we began to wonder if we were ever going to get off that train. I was remarking to our captain about how beautiful the trees were and how large the lakes were. He said he was glad that I was enjoying the scenery and to make the most of it because we only had two more days of it!
We were all as anxious to get off the train as we were the boat. it seemed as if we had been travelling for weeks and all we had seen was the sea and now lakes and trees. Surely there were towns somewhere! We must pass them in the night.
We did something that made us laugh. We saw three men stand outside a log cabin and as we had never seen a log cabin before, that was very interesting. But not was interesting to us as the funny little hats that these men were wearing. They were small rounded little hats with a peak at the front and tied at the top with laces. We had never seen anything like this in England so we laughed our silly heads over these little hats. There really wasn't anything else exciting for us to see. We began to wonder what sort of place we were going to.
One girl was going to Yellowknife and one was going to a reservation in British Columbia. We tried to imagine all the animals that we should see.
One young girl was going to a place called Sioux Lookout. The conductor, who took great pleasure in teasing us, asked the young girl who was going to Sioux Lookout if she knew that it was an Indian Village. The Indians would be at the station to meet her. If they liked her, they would do a war dance around her but if they didn't like her, the would scalp her. What a terrible thing to tell that poor young girl! In fact, we were all a little scared and I don't think that girl had a fingernail left when the train stopped in Sioux Lookout around 2 am.
Needless to say, we had all stayed awake to see what terrible thing was going to happen to that poor girl but all we saw was a group of people and a young man that came and took her in his arms and kissed her. We all felt like cheering and when we saw that conductor again, we told him off. He only had a good laugh and went off to tease some other poor girl. The conductor told me that the next stop was Hudson and for me to get ready as we would soon be there. I quietly got dressed and then woke Richard and got him dressed. Poor little boy — I expect he couldn't understand what was happening. At last I was about to reach my destination. No more travelling for me for a long time!
The next stop was Hudson and I was as nervous as a kitten. What if Arthur wasn't there to meet me? Whatever would I do? All sorts of fears began to form in my mind and by the time the conductor said we were in Hudson, I was in a state of panic. The Red Cross Captain came and waited with me and you can well imagine our shock when the train went rushing by the station. Now I was really sick. No one there to meet me. Whatever was I going to do? The Captain himself was looking very worried. We felt the train slowing down and then it stopped. It began to back up until we finally reached the station.
There was a very worried-looking Arthur waiting for me. How thankful I was to see him and how different he looked in a blue suit instead of the khakis I was used to seeing him in. He was also wearing one of those funny looking hats which he quickly took off as soon as he saw me. I looked to see if anyone was watching from the train and I made sure that Arthur never put that hat back on until the train was gone. I said goodbye to the Red Cross Captain and the porter who wished me well in my new life.
Arthur introduced me to this pretty little girl, Lillian and her boyfriend, Eddie, who had also just returned from overseas. They looked so young and I couldn't believe that they were old enough to be engaged. Arthur left most of the luggage at the station to be picked up later and we walked up the hill to Eddie's home where such a lovely spread of cakes, cookies and fruit were awaiting us. What a lovely welcome was given to little Richard and I. I thought that was so kind of them to go to all that trouble. I knew already that I was going to like this place call Hudson.
After a lovely lunch and a very nice visit, Arthur said that we had better get going back to the house where he had rented a room for us. We said goodnight and started to walk to my new home. I couldn't believe that I was walking along the street in Canada at four thirty in the morning!
Chapter 6
Arthur took me to this rooming house and showed me this little tiny room which was to be our home until he could find somewhere better. What a small room! Only enough room for a double bed, a single bed and a small cupboard. We had to be very quiet as everyone was sleeping. It seemed as if we had only been in bed ten minutes when I heard all kinds of sounds from the kitchen and as our room was right off the kitchen. I could hear someone saying that they hoped we weren't going to stay in bed all day. Did I ever feel dreadful and woke Arthur and asked him what the time was. When he said ten-thirty, I nearly had a fit. I made him get up and I quickly got Richard up. We went out to the kitchen to meet our landlady, Mrs. Laverne. We would eat our meals with her as this was a boarding house. I apologized for being late. Mrs. Laverne had six other people to feed so was anxious to get breakfast out of the way. I also wanted to send a cablegram to my parents as I knew they would be worried about me.
After I had helped Mrs. Laverne with the dishes and cleaned up, Arthur took me out and as Mrs. Dingman's store was the first store we came to, we went in and who do you think I saw? Arthur's niece, Lillian! She was helping out at the store.
I was introduced to Mr. and Mrs. Dingman and before long we were talking as though we'd known each other all our lives. How friendly people were. I knew I was going to like it here very much. We went to the station where I sent a cablegram to my parents and a sister. I felt much better knowing that my parents knew I had arrived safely.
Arthur introduced me to Bob and Mary Scott. Bob was the postmaster in town. I also met Miss Irving who ran a boarding house and her sister Mrs. Starratt who later on gave beautiful get-togethers for the war brides in her lovely home. I met many wonderful people who made me feel so much at home in this place called Hudson.
Hudson is situated on the shores of Lost lake and is a pretty place. In the afternoons I would take Richard and we would sit by the lake for hours at a time. Richard was fascinated with all the water and things in the water.
After a week, Arthur had to go back to his job which he had left so he could meet me and get me settled in. I know he didn't want to leave and I didn't want him to go but I knew that I would be all right now that I had met so many people. I could always visit Lillian and Eddie and Eddie's father. After Arthur left, I settled down to my new life in Canada. Mrs. Laverne had two other boarders besides Arthur and I. Tim O'Donovan was waiting for his wife to arrive from England and Mac McLaughlin had married an English girl who was living with his parents in Toronto. He was working as a taxi cab driver in Hudson. As I have said before, Mrs. Laverne was feeding six other men so she was busy all the time. What a wonderful cook she was. I think that all I lived for was meal times!
Arthur did not stay at his job too long as he did not like leaving me and I suppose it did not seem right really although I told him that I would be all right. Arthur was guiding tourists at Archie MacDonald's place on Cliff Lake. He left that job and got a job on the railway unloading freight.
Mrs. Dingman often asked me to go and have tea with her. It was on one such visit that she said she had a building that she would sell Arthur. I had told her that I would like a little place of my own as we were a little crowded in that room at Mrs. Laverne's. When Mrs. Dingman offered this little place, I couldn't wait to get back to tell Arthur. He was just as pleased as I was and we decided to go and look at it after supper.
As soon as supper dishes were done and put away, we went to have a look at this building. I must say that I was disappointed when I saw it as it was so small. it had started out as a blacksmith shop but the man had died before he could finish it. it wasn't what I expected but beggars can't be choosers, so Arthur bought it for $50.00.
There were lots of things that had to be done before we could move in. Arthur's friends said they would help put in partitions so the next time I went to look at the building it looked altogether different. Instead of one large room, there were two small bedrooms and a small kitchen. Steps had been built instead of having a plank to walk on and a new door had been put in so it didn't look too bad. I am sure it would look better with some furniture in it. Three windows were also put in, so it was beginning to look like a little doll's house. I always felt like I was walking into a box when I went into the house as it was so small.
I hated to leave Mrs. Laverne as I'm sure she appreciated my help with the dishes and waitressing. She was very good to me and I know I was going to miss her and her good cooking. We did need a place of our own though and this little place was ours and that was all that mattered.
Arthur still had his gratuity money from the army so we hired a taxi and went to Sioux Lookout. We bought all the furniture we needed to furnish our little home. I was so pleased. I now had a place to invite my friends. Now that I lived in a different part of town, I didn't see Mrs. Laverne as often nor did I go and sit by the lake as often as I used to. There was already four English war brides in Hudson when I arrived. I quickly got to know them and one in particular got to be such a good friend to me. She helped me in so many ways. Two more brides were coming in September.
Hudson was such a busy place. in fact, it was known as the busiest little town in Canada. The gold rush was on in Red Lake and everything had to go from Hudson by scows or planes to Red Lake. There was no road to Red lake so Hudson was the starting point. There was a post office, an air service, several stores, three cafes, two sawmills, two churches, a blacksmith shop, a warehouse depot, boarding houses, a fishery and of course a station.
Chapter 7
I had asked Arthur one day while we were in Godilamin, England, if Hudson was as large as Godilamin.
He said:" Well, not quite." The population at that time was 11,400 and Hudson's was about 600.
He did tell me however, that there weren't any sidewalks, theaters or shows so I knew what to expect.
I got to know Sam and Mary Oakley really well. They went out of their way to do things for us and they helped us in so many ways.
I met Bill and Beulah Oakley and Bill's brother Ben. The three brothers lived very close to one another. Ben was expecting his wife from England in September so I was anxious to meet her.
I wasn't as happy as I thought I was going to be in our little home.
For one thing, I could not understand Arthur. His ways were so different from mine. It was a good thing that I had made some good friends so I had places to go otherwise I would have ben very lonely.
In september, Gladys and Rita came and I think it was around that time that Gertrude and George Foster came to Hudson with their little girl Trudie. Gertrude was also a war bride but spent some time in Winnipeg before coming to Hudson.
Gladys and I got to know each other very well and we would share many a laugh and tear together. Gladys used to have to pass my house every time she went uptown so she would call in and have coffee with me and then we would go for walks in the afternoons.
I was expecting my baby in November so I had to have a doctor. Of course, the doctors and the hospital were in Sioux Lookout so we had to hire a taxi to go to the doctor. The doctor that I saw told me that I had a hernia and I should get it repaired after the baby was born. The doctor asked me what part of England I was from and I told him Tunbridge Wells, Kent.
He looked so surprised and said: "Then you must know Groombridge."
I said: "Know it, my two sisters and I worked there!"
The doctor said that he and his men were stationed in the manor house in Groombridge. I told the doctor that for our part in the war effort, we offered to darn the soldiers socks. What a mistake that was. We had sacks and sacks of socks and in some one could put their feet in both ends.
The doctor laughed and said: "Maybe I wore some of those socks." I told him that if he found a little note in them, then those were the ones that I had darned. We really had a lovely visit and I told the doctor that there were seven hundred and fifty war brides on the ship that I came over on and if everyone had a baby, it certainly would bring the population of Canada up.
The doctor said: "I am relying on every bride having three babies." I looked at him and said: "Well, you can count me out. I wont be coming back after my baby is born. At least not to have another baby!"
Lillian and Eddie were going to be married in November and we were looking forward to going to their wedding. That of course would depend on my baby. Arthur's mother said that she would come and take care of Arthur and Richard while I was in the hospital so that was a relief.
My baby decided to come on the 19th of November. Arthur rushed me to the hospital and quickly deposited me inside the door and then he took off. He never waited to see if I was going to be all right or what the baby would be. he hated hospitals.
When I saw the steep stairs that I had to climb, I said to Ann, the nurse: "I'll never be able to climb those stairs." Ann said: "Oh, yes you will. I'll help you." When I got to the top, I heard Ann say: "There goes the baby." Sure enough, the baby was born on the top of the stairs.
Boy, what a commotion that was. Nurses everywhere! Ann was always reminded me that that little episode caused her to have her first grey hair. Anyway, it gave them a little excitement for awhile.
I had told my Richard that I was going to bring him back either a little brother or sister to play with when I cam back from the hospital. I knew he was a lonely little boy and wanted someone to play with. It was a very excited little boy that met me at the door but when he saw the little bundle in my arms, he didn't look very happy and even less so when I took her out of her blankets and he saw how tiny she was. I am sure he was thinking: "How can I play with much a tiny little thing?"
After we had supper which Arthur's mother had prepared, I told Richard that he could help me bathe the baby. He could bring me the powder, oil and soap. When he saw the baby naked, he looked and looked and said to me: "What funny little thing!" When the baby started to cry he said to me: "Mommy will you take her back and change her for a truck?" Guess he wasn't too thrilled with his baby sister.
Arthur's mother said she would stay for another week which would be a great help to me. She was a very religious woman who always went to church. Her Bible was her companion. She was also a very quiet and calm person who never raised her voice at all. I have found that many of the Indian people are like that. I don't know what she must have thought about Arthur and I arguing like we did.
Chapter 8
I was getting very depressed and longed to go back to England. I wrote to the Red Cross to see if they would get me back to England as I didn't think the atmosphere that my children were in was right. If they could get me back as soon as possible, I would be very grateful. Well, I waited and waited for a reply but none came. I thought that they had forgotten about me and I was going to write to them again.
I was busy washing. How I hated washing in the winter. First of all, I had to collect icicles hanging from the roof and fill my water barrel. I had to melt the icicles in the tub on the kitchen stove. I had to scrub the clothes on a scrub-board. This took lots of water and if I had a barrel full of water, I thought I was in heaven. I had to hang the clothes out in the freezing cold which really didn' t dry them but that was the only place to hang them. Many times the clothes were frozen solid when I brought them in and really were wet when they thawed out. No wonder I hated washdays in winter.
As I was hanging out the washing, the pastor of our church came by and stood talking to me. I invited him in and offered him coffee. It was almost lunch time and Arthur would soon be in and as the pastor showed no sigh of leaving, I asked him to stay if he didn't mind potluck. To my surprise, he accepted. I quickly laid the table and had the lunch all ready when Arthur came in. He was just as surprised as I was when he saw Pastor Moffat.
After we had said grace, the pastor said: "I have just come from the Red Cross and our wife wants a divorce."
My heart stood still when he said that and I looked at Arthur. His face had gone very white and he jumped up from the table.
He said: "If that's the way she wants it, that's the way she can have it."
He grabbed his hat and was going to walk out but the pastor stopped him and said: "No, that's not the way it should be. Children need a father as well as a mother. I want you to come to my house this evening and we will talk this over." To my surprise, Arthur did go to see the pastor and he was gone for such a long time that I began to wonder if he had gone to the beer parlor instead. I was very nervous when he came in but we decided to give our marriage another change. Maybe if I had been Canadian, things would have been very different but I was a stubborn Englishwoman and Arthur was just as stubborn as I.
I guess it was hard on him as well. He had been footloose and fancy free for so long and now we had tied with a wife and children to support. He had to be tied down to a steady job. Arthur had spent months prospecting in Northern Quebec. He had worked in the States and all parts of Canada so I am sure he must have resent the fact that his carefree lifestyle was over.
For a while, things changed and I was so busy preparing for Christmas that I forgot how unhappy I was. I was so thankful that Gladys came in everyday on her way to the post office and we would sit over coffee and grumble about how far apart places were over here. We didn't have the money to go any father than Sioux Lookout. Although we had both made many friends, we were both homesick for England.
Well, Christmas was almost here and how can anyone not be excited about Christmas? I had so much to cook with – no shortage of anything here. Not like England where we only had two ounces of marg, sugar, tea, lard and cheese for a week. I felt very guilty for having so much.
Gladys had asked if we would like to go to her house for Christmas Eve. My goodness, what a wonderful cook she was. Here I was trying to push English cooking onto Arthur while Gladys had all these marvelous Canadian dishes prepared. I decided that I would try and do better. Maybe I did too much grumbling and not enough doing.
I remember the first breakfast I served Arthur in our little house. It very nearly ended in disaster. I had cooked him eggs and bacon and I saw him put jam on his plate to eat with his toast. I couldn't believe it!
I snatched his plate away and scraped all the jam off and said: 'You can't eat jam when the people in England are starving."
He said: 'I don't care whether the people in England are starving or not. I work hard for this food and I'm going to eat when I want and what I want." We both ended up mad.
The first time I made Arthur tea, you would have thought I was giving him poison. He asked me how long ago I had made it and seeing that he looked mad, I said: "Ten Minutes ago."
He said: "I don't care how your mother made tea. She was probably used to drinking boiled tea all the time but I'm not going to drink that black looking stuff."
We had a row over that.
Another time, I served pancakes rolled up with lemon and sugar for dessert. That's how we had pancakes in England. When I put them in front t of Arthur, he looked at them as though he had never seen them before and said: 'What's this?"
I said: "pancakes. Can't you tell?"
He said: "We have these for breakfast with butter and syrup."
He wouldn't eat them. We had many little upsets like that – mostly over food.
Now to get back to Glady's We enjoyed ourselves so much that it was eleven o'clock before we knew it. We had only intended to stay until ten as we had Richard and baby Sally Ann. We said goodnight and left. We didn't have far to go thank goodness. As soon as we got in, I started to wash the children and get them ready for bed. As I was getting the baby's bottle ready, Arthur said to me :"We had better hurry and put the lights out before anyone comes."
I looked at him and said: "It's eleven-thirty. Surely no one will come at this time of night." However I did hurry up, fed the baby and put her to bed. I quickly washed and got into bed myself. I told Arthur to hurry up and put the lights out. He had just put the lights out when we heard a banging on the door. "Open up Art. Merry Christmas. Where's the booze?" I told Arthur to keep quiet and they would go away. No such luck. They kept up the banging and shouting so Arthur got up and opened the door. Before I knew it, all these men were in my bedroom. Of course there wasn't a door on our room so they were in there wishing me a Merry Christmas and calling Arthur a sly dog for keeping me hidden. Arthur hadn't kept me hidden but they were probably too drunk to recognize me.
Anyway, they dragged in chairs and made Arthur get glasses. They poured out some kind of wine and every time they wished me a Merry Christmas (which was many many times,) I had to take a little sip. What a stupid fool, I felt. I could've choked Arthur. I was boiling mad on the inside but smiling on the outside. I would've felt better if I could've reached my dressing gown. As it was, I had to sit with a sheet wrapped around my neck, drinking with six men. By the time the men were ready to leave, I was a nervous wreck. I know one thing for certain. I would never be caught like this again. I told Gladys about this and she laughed her head off. I sure didn't feel like laughing. on the whole, we did have a nice Christmas with a real tree all decorated up. We got Richard a little black puppy named Tippy instead of a truck.
Chapter 9
One day in January, I was busy baking bisquicks for lunch when I heard this very funny noise in the attic. I was half afraid to get on the table and open the attic door. When I did, my heart stood still. The attic was on fire!
I literally fell off the table and ran outside I shouted: "Help! Help!"
There wasn't a soul in sight. I ran back into the house and grabbed the baby, pushing little Richard in front of me. I told him to run to Mary's house. He was frightened as I was.
We raced up to Mary's house and I shouted: "My house is on fire!"
We both rushed back to the house. Mary opened the attic door and shouted for me to give her the pail of water which we threw on the fire. I used all the water in the barrel and then a miracle took place. Firemen came in and quickly put the fire out. I looked out the window and saw Arthur sauntering down the road as if nothing was happening.
I was so mad and told him that he could have rushed home to see if we were safe and sound. He said that he had asked someone where the fire was. When he learned that it was his house but the firemen were there, he didn't bother to rush home. I thought that was so strange that he never rushed home like a father should. I was still shaking and I know that if it hadn't been for Mary, my house would have gone up in flames.
The fire chief told Arthur that the house was a fire trap and that he had to have a Selkirk chimney and another exit in the house. I told Arthur that I didn't come over here to be burnt to death and I wasn't going to live in that house until he had got a Selkirk chimney. I packed up and went up to Miss Irvings and stayed in her rooming house. I knew Arthur wouldn't be long in getting a Selkirk chimney as he couldn't afford board money. Even when he had the chimney installed, I was still nervous and could still hear that crackling. it was a long time before I could go to sleep peacefully in that house.
Sam came down to see us and told Arthur that he and Glen would help him build a kitchen. I was thrilled to death but Arthur didn't seem that happy. He said that he would have to borrow the money to buy the lumber. Of course, I hadn't thought of that and I honestly didn't care as long as I got a kitchen. In April, the lumber was delivered and Sam and Glen spent every spare moment they had working on my kitchen. They said that if the weather kept nice, they should have my kitchen done by the end of May. I was so excited and kept t running outside to see how they were coming along. I expect they got tired of seeing me. it was finished on the 10th of May. What a lovely kitchen it was. It had three windows and another door. How lucky we were to have such friends to help us like they did. How small my table and chairs looked in my new kitchen but I didn't mind that. You won't believe how grateful I was to have such a nice kitchen. I wish I had pictures of the house when we first moved in so you could appreciate the difference my new kitchen made. I no long felt that I was walking into a box.