Article Category:
Travel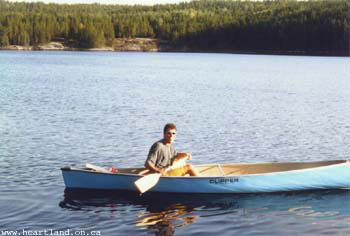 Great adventures can be had canoeing across the Canadian wilderness in Canada's Heartland. The following is a documented account of one of these adventures. In the summer of 1998 Nicole Lyotier of Vancouver, B.C. and Olaf Stroeble of Germany took one week and paddled through Woodland Caribou Provincial Park, north-west of Red Lake in Canada's Heartland. All photos have been taken by our two travellers.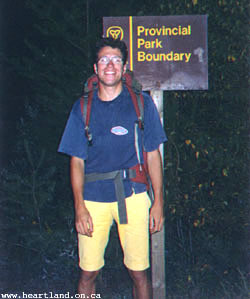 Our tour begins on the edge of the forest at the boundary of Woodland Caribou Provincial Park, which is just north-west of Red Lake, inside of Canada's Heartland. Gear on and ready to go, we enter the park.
At the edge of the water, Nicole carefully plots the canoe route they plan to take through the many lakes and rivers that spread across the land.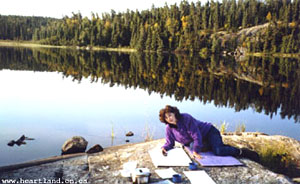 With our course plotted and gear packed into the canoe, we set out into our journey.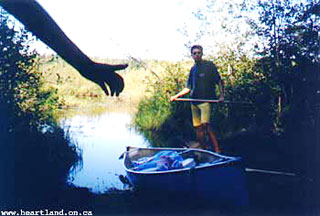 As our journey begins, we are captured by the beautiful scenery of the Canadian Wilderness typical of Canada's Heartland.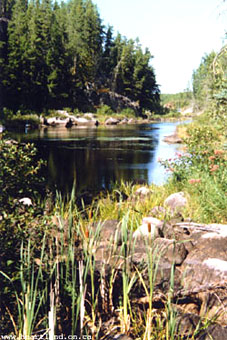 Despite our careful course plotting, we accidently take a detour through a river that's gotten just a little bit too muddy.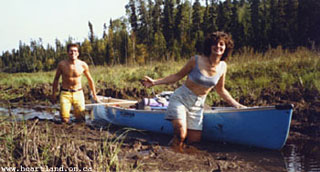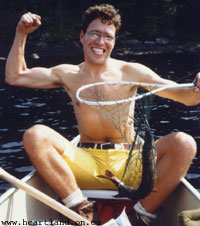 We get back out into the main lake, and manage to get a few great catches of fish. We'll save these for the campfire once we make camp.
After exploring for a while, we climb out of the canoe onto the rocky shoreline and scout the landscape for a camp site.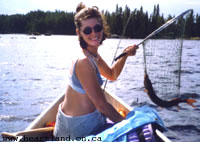 Sheltered by the trees, and with a great view, we find an excellent place to pitch the tent on a bed of soft moss.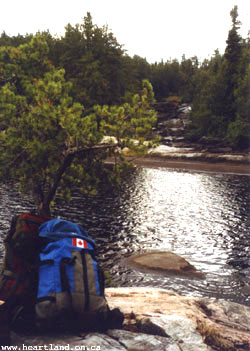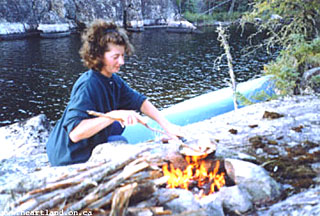 Time for that fish fry! Food just always seems to taste better cooked over an open camp fire. We prepare our daily meals in this fashion, and it tastes great!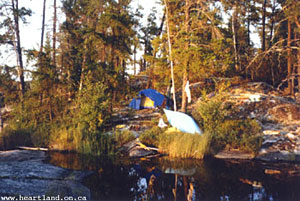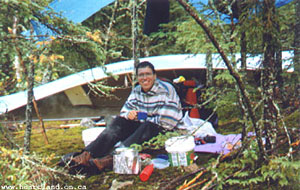 Relaxing in our cozy campsite in the Canadian wilderness.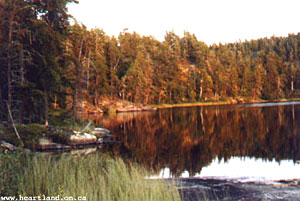 Here is a glimpse of the view from our campsite looking onto the lake and the forest.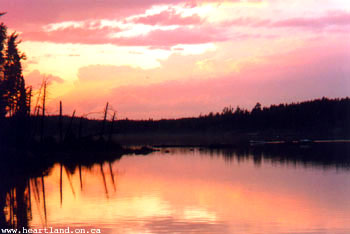 Sunsets in Canada's Heartland are like nowhere else. The sky turns all different brilliant colours, as the sun slowly dips below the treeline. Night falls on Canada's Heartland as our tour ends.
We hope you enjoyed our tour, we certainly had a great time canoeing in Canada's Heartland.
For more information on canoeing in Canada's Heartland contact the Ontario Ministry of Natural Resources.