Canada Fly-In Fishing Trips
Canada Fly-In Fishing Trips
Does a fly-in fishing trip in Canada sounds like your vacation of a lifetime? Imagine boarding a float plane, flying over the rugged Canadian wilderness dotted with more lakes than you can count, landing at a remote lodge or cabin with no neighbours, spending the morning on the lake with your buddies, catching lots of fish, having a tasty shore lunch, hitting the lake again before dinner and doing this all over the next day. If this sounds great to you, how do you start planning this dream trip? It's a matter of making a few simple decisions and you'll be on your way to enjoying an exciting Canadian Fly-In Fishing Trip.
What is a Fly-In Outfitter?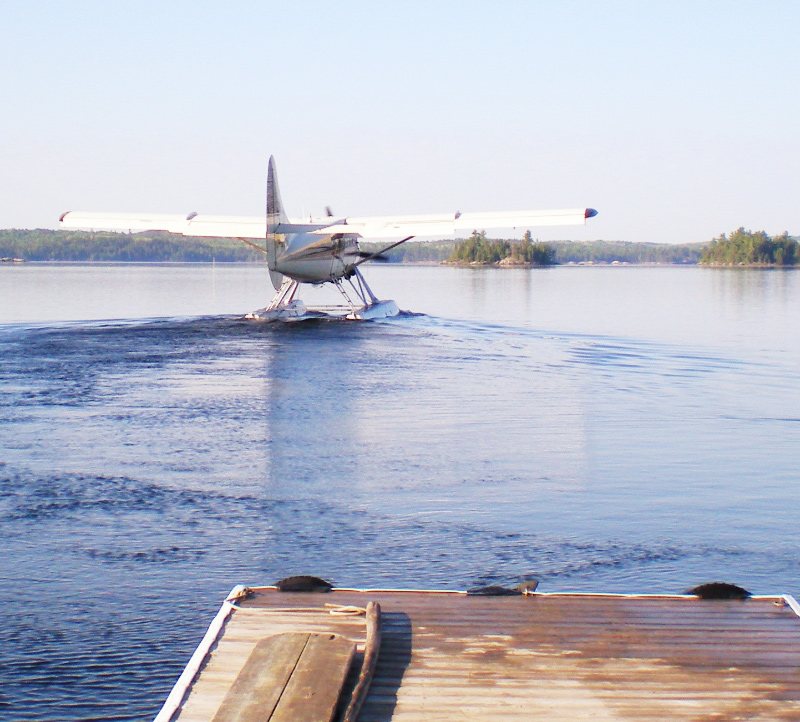 Fly in Outfitters or owners have camps or lodges that are only accessible by plane. Their facilities are generally located on remote lakes that have no road access. You drive to their base camp or airplane service provider and catch a flight out to the lodge or cabin. Fly in Outfitters bring guests to their facility by either a wheeled or float plane depending on the lodge or camp. While most fly-in lodges use float planes designed to land on the water, there are a few that have their own private runways for landing wheeled planes. Prices generally include the cost of the return airfare from the outfitter's base facility but always check when talking to a potential outfitter. Packages vary amongst outfitters and you don't want to discover that there are extra costs. Depending on what time you arrive for your fly-in fishing trip, the outfitter will either fly you in right away or provide overnight accommodations allowing you to catch the plane first thing in the morning. The size of your group will determine the type of aircraft the outfitter will use.
DeHavilland Otters and Beavers, Norseman, Cessna 180s and 185s as well as Beech 18s are commonly used aircraft. Did you know that in 1987, the Canadian Engineering Centennial Board name the Beaver is considered one of Canada's 10 greatest engineering achievements of the 20th century? The Beaver was designed for flight in rugged and remote areas of the world. Its short takeoff and landing capability made it ideal for areas normally only accessible by canoe or foot, making it one of the perfect planes to use on a Canadian fly-in fishing trip. Government regulations must be followed for the maintenance and upkeep of all aircraft in order to make them safe for travel. You should find your experienced pilot to be professional, courteous and knowledgeable about all aspects of your fly-in fishing trip. He can most likely provide you with some fishing tips and point out some of the "hot spots" for your fly in fishing trip. Many of the owner-operator pilots have accumulated numerous years of experience flying and several businesses now include family members as pilots as well. Actual flying time will vary depending on how far the lodge or outpost cabin is located from the base camp or flying provider.
When to plan a Fly-In Fishing Trip
When is the best time to plan a fly-in fishing trip? That all depends on what you want to do on your Canadian fly-in trip, what type of fish you would like to catch and if you want to participate in activities other than fishing. Anytime from ice-out in May to the freeze-up in late October are considered to be good times to book a trip. Although the fishing is always good in remote fly-in Canadian outpost lakes, fishing techniques may vary based on the time of year you are going on your fly-in trip. During the spring and early summer months after spawning has taken place, you might find walleye and pike near the river mouth while in the later summer months and fall they are usually found closer to the weed beds pursuing the bugs and minnows hiding there. Trout on the other hand, will be closest to the surface in spring and found in deeper waters during the summer months.
When planning a fly-in fishing trip,you may find that the most suitable months in Canada are July and August because of the agreeable weather, warm water temperatures and long summer days - the sun doesn't set until late in the evening. As these are the prime summer months in our area of Canada, sunny days perfect for fishing, relaxing or swimming are usually abundant. If you are planning to combine a fishing trip with some hunting, then fall is the season for booking. The weather is always the one variable the even the outfitters have no control over so make sure to check the local forecasts before you start packing for your fly-in trip. It may save you from finding yourself sitting in the boat wishing you had packed more appropriate attire.
Type of accommodations
On your Canada Fly-In Fishing Trip, do you want to stay at a fly-in lodge or fly-in out- post? As a rule, there really isn't any difference between a Lodge, Resort or a Camp as it is usually just the preferred name the owners have chosen for their facility. All three names can be used interchangeably. These establishments consist of a main lodge facility and/or several cabins.
There are staff members available to help fly-in guests with their vacation needs. Most lodges offer you all the comforts of home and often provide other amenities such as game rooms, satellite TV and inter- net. Quite often group activities and/or weekly fish fries are planned. You will be with other guests which offers the chance to share some fish tales and trade fishing tips and tricks.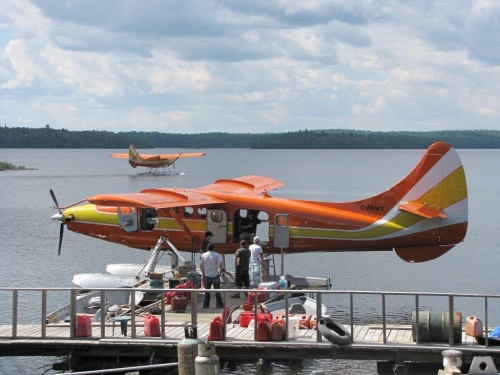 Fishing usually takes place on the lake where the lodge is located but some outfitters also offer portage lake. To access these lakes, you boat to a desig- nated area and walk over to where another boat is located on the next lake or transport your boat and equipment on the portage trail to the next lake. This can be done by pulling the boat over logs called rollers lain across the path or by mechanical means such as pulley systems. Your other option is a fly-in outpost. An outpost is usually a single cabin that is situated somewhere away from the main base camp. The cabins vary from rustic with the bare basics to ultra-modern and equipped with all the ameni- ties. Quite often, it is the only cabin on a lake and therefore very secluded so you may find that you have the entire lake to yourself.
Imagine you, your buddies and a lake full of fish with absolutely no neighbors but the local wildlife! It's not uncommon to see a moose eating by the water's edge, a bear foraging for his next meal, a bea- ver swimming by the dock or an eagle swooping down to catch a fish. A variety of other birds and animals as well as the spectacular scenery and beautiful sunsets provide numerous opportunities to snap some great photographs. As this is the per- fect way to escape from the hustle and bustle of the city, schedules, e-mails and telephone calls, you should be prepared to be relatively self sufficient. There is usu- ally NOT any staff to help guests with their vacation needs. However, if you want to have someone cook and/or guide for you, many outfitters can supply a staff person for an additional charge. Most fly-in outfitters provide satellite phones or radios or daily/weekly check-ins in case you forgot something or need emergency assis- tance on your fly-in fishing trip. Boats, motors and gas are usually provided and often the fly-in cabins are equipped with staple foods. Be sure to inquire about the avail- ability of bait and ice.
Picking a meal plan
The next step is choosing a meal plan for your Canada Fly-In Fishing trip. Fly-In lodges may offer one of the following meal plans: American Plan, Modified American Plan or Housekeeping. If you choose American Plan, this plan typically includes all Meals and daily maid service, boats and motors, bait and gas and may include the service of a fishing guide for your fly-in trip. Modified American Plan offers you a choice of which meals you want prepared, may or may not include daily maid serviceand you often pick and choose from services referred to above under American Plan. If you decide on the Housekeeping Plan for your fly-in fishing trip, it generally in- cludes a cabin rental, you provide your own food and cook your own meals. There is no daily maid service, add on boat and motor packages are generally available and most camps have bait and gas for sale.
Fly-In Outposts cabins are generally Housekeeping. Sometimes the staple foods are in the cabin and you will have to just bring in fresh meats, vegetables and bever- ages. If you don't want to do the shopping for your fly-in fishing trip, some of the outfit- ters offer a service where they will purchase your groceries and have them ready for you when you arrive to depart on your fly-in trip. All you have to do is supply them with your shopping list. Some cabins come completely equipped with items such as sta- ple groceries, cleaning and paper supplies, bedding and linens but It's always best to confirm all of these details of your fly-in fishing trip with the outfitter you have cho- sen. The last thing you'd want to forget to pack is the toilet paper!
Species of Fish
Now, what kind of fish do you want to catch? Fly-In fishing trips offer the fisherman abundant chances for bountiful catches and the opportunity at a trophy fish. The Northwestern Ontario area of Canada has several great fish species to consider. Walleye is the premier sport fish with white, firm and delicately tasting flesh - perfect for that tasty Canada shore lunch. Also known as pickerel, walleye are native to most of Canada. Their name comes from the fact that their eyes reflect white light, allowing the fish to see well in low-light conditions. If you're looking for bigger fishing excite- ment and challenge, why not try Northern Pike fishing. Northern Pike, also locally called Jackfish, are are among the largest North American freshwater game fish and are well known for their aggressive hits and the aerial acrobatics they put on when hooked. Northern Pike are found in lakes across the province of Ontario. Approximately 25% of the world's lake trout lakes are found in the province of Ontario, Canada, making them a sought after species. Only 1% of Ontario's lakes contain lake trout, so an opportunity to fish for them is a perfect for a Canada fly-in fishing trip. Other popular fish species to consider include the tough smallmouth bass, feisty musky and the ever abundant perch.
Ask the lodge owner what species of fish are available in their lakes as not all lakes contain every fish species. It's always a good idea to check the fishing regulations for licensing requirements, size and possession limits as well as how to export your catch before coming on your fly-in fishing trip. Take a look at our fishing licence page, http://www.freemap.ca/fishing.php for more detail on Ontario Fishing regulations.
Sometimes the fish are biting so well, it's hard to keep track of how many you have actually caught. If you want to keep an accurate count for your fish stories, make sure to pack a golf stroke counter. With each click, this small hand held device will help to accurately count all the fish you caught. Many outpost lakes boast high quality fishing due to a catch and release conservation policy. You are allowed to keep enough fish for your shore lunch but can- not take fish home with you. Taking numerous photos and then releasing a trophy fish allows you the opportunity to make a graphite replica mount for your wall and at the same time helps to maintain the lake's productivity for future generations to enjoy.
What to pack for a fly-in fishing trip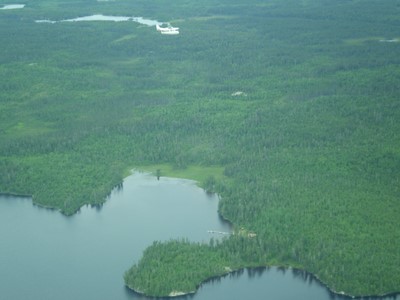 So what do you need to pack? The answer varies amongst fly-in outfitters and it's essential that you ask this question when talking to them as you don't want to forget anything important. Many of the various fly-in outfitters have a packing check list available on their websites. Their websites should also tell you which items are supplied with your fly-in fishing package such as any staple groceries, bedding and lin- ens, boat seats, life jackets, cleaning and paper supplies etc. Don't forget to ask them about a map of the lake as this will help to familiarize you with the layout of the water, hopefully show you some of the hot spots and point out areas to avoid such as reefs. You don't want to hit any rocks on your first day out fishing. Some items you may want to pack for your fly-in fishing trip in addition to your personal clothing and fishing gear include:
a camera and spare batteries
sunscreen and sunburn ointment such as aloe
bug repellant
sunglasses
a good quality rain suit
a flashlight with new batteries
a filet knife & sharpening stone
your medications
a first aid kit Always make sure you bring your passport as one is required to cross the border into Canada.
For safety reasons, most fly-in outfitters require that fishing rods be transported in cases. Try to keep your tackle to a minimum - do you really need all of it? If you are fishing for walleye or perch, jigs, twister tails and spinners are some of your best tackle bets. Spoons and crank baits work well for Northern Pike and spoons and jigs should catch you a nice lake trout. As space is normally limited in the plane, most outfitters have a baggage weight limit which includes all food and beverages. Overweight charges will apply. The fly-in outfitters generally ask that in order to assist their staff to load the plane properly that all boxes, containers, suitcases or duffel bags be kept to a manageable size and not exceed a certain weight limit. They suggest not packing your belongings in garbage bags as they rip easily and could be confused with the trash. The type of clothing to pack will vary according the time of year you are vacationing so it's always a good idea to check the area weather forecast. Some good tips for packing items for your fly-in trip are to place them in water- proof containers or bags and to help lessen your weight load, avoid canned goods where possible and go with frozen or dried instead and rather than bringing full bags of flour, sugar, etc. only pack what you need in plastic storage bags.
Fishing Licence Requirements and Regulations
If you are over the age of 18, you are required to purchase an Outdoors Card and fishing license to legally fish in any Canadian Province. Anyone who is not an Ontario or Canadian resident is considered a non-Canadian resident for the purpose of fishing licence regulations. Several types of Canadian resident and non-Canadian resident fishing licences are available in Ontario.
Fishing licences are classified as either a Sport Fishing Licence or Conservation Fishing Licence and each class of licence comes with a daily catch and/or possession limit . The limits for a Conservation Licence are lower than a Sport Fishing Licence and cost wise, the Conservation licence is less expensive than a Sport Fishing Licence. A reduced catch and posses- sion limit licence (Conservation Licence) is ideal for anglers who want to live re- lease the majority of fish caught. Under this licence, anglers must immediately re- lease muskellunge. Licences are available for various time frames ranging from a yearly licence to a one day licence.
When you purchase a fishing licence, a corre- sponding tag is attached to your required plastic Outdoors Card. If you are planning to take the kids fishing with you, please note that Non-Canadian residents under 18 years of age may fish without a licence if accompanied by a person who has a valid fishing licence but any fish kept are part of the catch and possession limit of the person who holds the licence. On the other hand, non-Canadian residents under 18 years of age may purchase a licence to have their own limits. As you drive to the lodge or airplane base, make sure to stop in at one of the many local bait and tackle shops to pick up a copy of the current regulations and check to see if there are any size or possession limits for lake you will be fishing. The current fishing regulations can also be downloaded from the Ministry of Natural Resources web site at http://www.mnr.gov.on.ca/en/Business/Lets Fish/Publication/STEL02_163615.html. Many of the fly-in lodges and outfitters offer Conservation Fishing Licences as part of their packages. Make sure to ask if a licence is included in the fly-in package you are considering.
Boating Regulations
Once in Canadian waters, you must follow the rules that govern safety equipment, the safe operation of your pleasure craft, and protection of the environment that apply in Canada. For More Information, visit the Transport Canada Website at http://www.tc.gc.ca/eng/marinesafety/debs-obs-quick-quick_visitor-1610.htm specifically the section on Operator Competency Requirements. The Competency of Op- erators of Pleasure Craft Regulations require that all operators of pleasure craft fitted with a motor have proof of competency and proof of age on board at all times. The Small Vessel Regulations set out the minimum safety equipment required on board a pleasure craft according to its type and length. The regulations can be found at http://www.tc.gc.ca/eng/marinesafety/debs-obs-equipment-size-menu-690.htm. Many of the Fly-In outfitters can supply you with a completed boat rental safety check list. Make sure you inquire about the boating regulations when you are booking your fly-in fishing trip.
Daily Fly-Out Fishing
An alternative to spending time at a fly-in lodge or outpost that still allows you to experience a fly-in fishing trip is to book a one day fly-in fishing excursion. Easier on the budget, this option allows you to experience a fly-in trip on a smaller scale. This adventure provides a fantastic opportunity to fish one of the many remote, fly-in lakes and a great way to view the rugged but beautiful Canadian Wilderness. You can choose your destination or species of fish and enjoy a day of solitude. The float plane picks you and your gear up at the lodge, flies you to a remote lake, drops you off for the day and then returns to transport you back to the lodge. The lakes are already set up with boats and motors and generally there are no cabins on these lakes pro- viding for a true remote experience. A short day trip provides all the same adventure and seclusion as spending time at a fly-in lodge or outpost but assures you that you will be back at your lodge before bedtime.
Where to find more information
Still need a bit more information but want to find it all in one handy spot? One of the best places to find all the information you need to plan your fly-in fishing vacation is the Canadian Fishing Map and Hunting Guide. This free publication can be obtained by calling 1-800-465-7101 or by going to www.freemap.ca. Last month, I picked up a copy of the map and guide at my local Fleet Farm Store and it provided me with lots of details about a fly-in fishing trip. Be sure you get a current copy of the annual map. I was able to go through the process listed above and with answers to all the ques- tions, a fantastic fly-in fishing trip in Canada was booked for a great bunch of guys with one of the fly-in outfitters. We're all excited about it and the trip is always part of our daily conversations. The web site proved to be very helpful as it provides more detailed information on fly-in Outfitters, fishing regulations and licenses, what to pack, fish species and local weather plus so much more.
What's left for you to do; circle the date on your calendar and start the count down for the trip. You'll want to remember all the exciting memories you've created on your Canadian Fly-In Fishing Trip. That way you can share the stories with your friends, family and co-workers and encourage them to start planning their own dream vaca- tion - A Fly-In Fishing trip in Canada. I've got mine all planned and who knows, we may even cross paths. Have a great fishing trip!
You may also be interested in: