Snowmobiling
One of the greatest joys of snowmobiling is the exhilaration experienced deep into the wilderness. And few places offer the quick and ready access to winter wilderness like the Patricia Region of Northwestern Ontario, Canada, does.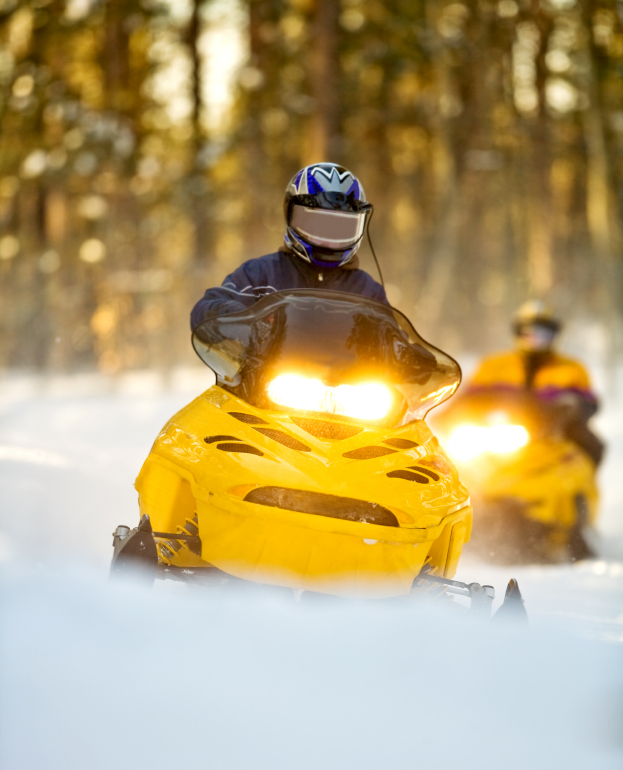 Long a summer destination point for anglers and vacationers, the Patricia Region is rapidly ganging a reputation as a snowmobiling paradise. Hundreds of miles of groomed trails have been developed to cater to both residents and winter tourists. For the adventurous, there are lots of ungroomed trails, too, and there is always untouched powder close at hand.
Until recently, most snowmobiling was associated with hardy ice-fishing anglers searching for lake trout, walleye, and northern pike. Ice-fishing, of course, is still popular, but as with elsewhere across the snow belt, touring has been growing at a much faster pace. Very much family oriented, riding not fishing, has become the snowmobiling activity of choice.
To take advantage of the popularity of touring, Ontario's snowmobiling community has made huge effort over the last few years to crisscross northern Ontario with a network of snowmobile trails. Known as the Trans ontario Provincial Trail system or "TOPS" for short, snowmobilers can now ride in comfort on groomed trails well marked with safety and directional information. The TOPS trail system now links towns, resorts and amenities across the north. In Northwestern Ontario, TOPS trails are now connected to trails in Manitoba and Minnesota. TOPS trails completely traverse, from east to west, the southern portions of the Patricia Region, and take travelers through some of the most scenic wilderness in the province. Other trail systems, mostly opened up by fishermen and trappers, and often following historic trade and travel routes, also wind their way through thousands of square miles of a breathtakingly beautiful landscape.
To help finance the costs associated with keeping TOPS trails groomed and marked, it is necessary to buy a trail permit. Permits (priced in Canadian dollars) $100.00 for 3 days, $140.00 for 7 days and $200.00 - $250.00 for a full season pass (depending on if you purchase before December 1st.) The permits are readily available throughout the region.
Visitors to Northwestern Ontario often remark on the abundance of lakes and rivers. The Patricia Region is especially blessed. These same lakes, long an angler's paradise, when subjected to dependable, frigid temperatures and usually just the right amount of snowfall, make for some of the grandest lake travel found anywhere. Countless miles of lake travel is one of the highlights, in both new and repeat, visitors to the region will always remember.
A favored destination in the extreme southern portion of the region is a trip to the White Otter Castle. Built over a period of years at the turn of the century by the eccentric Jimmy McQuat, the restored, hand hewn, red and white pine log castle features a 4 story tower. Who waited for the castle to be completed before jilting Jimmy.
At the north end of the TOPS system is the famous gold mining town of Red Lake. Red Lake is a bustling center with a full-service community surrounded by true wilderness. In the forests surrounding Red Lake, it's still possible to see signs and if you're really lucky, catch a glimpse of the elusive woodland caribou.
There are no TOPS trails north of Red Lake, but there is a vast mostly untouched forest of mostly pine, spruce, and fir which stretches all the way to the shores of the Hudson Bay. Aside from a few remote aboriginal villages, there is little in the way of human development north of Red Lake.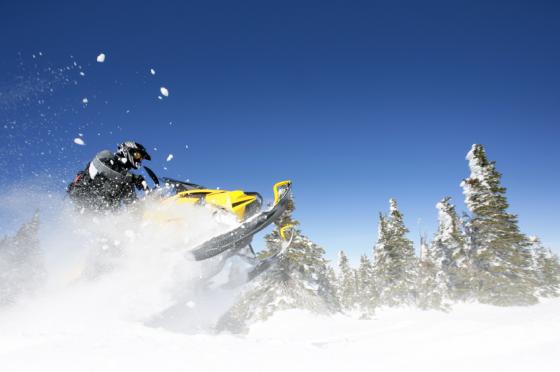 Except for short day-tripping, most snowmobiling out of Red Lake is done to the south. There, it's 40 miles to the hydro-electric community of Ear Falls, where you'll find the world's longest snowmobile bridge. Spanning the fast flowing waters of the english River, the bridge is 520 feet long and suspended 40 feet over the river's surface.
From Ear Falls, it is another 60 miles on TOPS trails to Dryden, the biggest town of the region. From Dryden, trails radiate in all directions.
If you decide to head west to Vermilion Bay, you get to travel scenic land trails and a portion of big beautiful Eagle Lake, which at one time was home to the world record muskie. In Vermilion Bay, there are several places you can choose from to stay at night, gas up or just get a bite to eat.
Continuing west from Vermilion Bay, on utility right of ways and winding logging roads, it is about another hour and a half to Kenora.
In 1980, a huge wildfire raged west of Vermilion bay, but despite having been burnt, the forest grew back extremely quickly, and a thick almost impenetrable sea of jack pine now carpets the hills and valleys.
There hasn't been any large forest fires south of Dryden and, as a result, the forest looks a lot different than it does in the west. While there has been logging, care has been taken to protect and enhance the wildlife habitat as well as its aesthetics. As a result, most shorelines remain uncut and many are ringed with stately stands of huge red and white pines. A mixture of cut and uncut forest, connected with logging roads and skid trails, can be fun to explore and in many cases will take you through places which abound with wildlife, especially moose.
There is once again a lot of "lake running" on the southern route, with the biggest lake being Lower Manitou, very much renowned for its lake trout. Like other big lakes, Lower Manitou is a great place some fabulous displays of northern lights if traveling at night.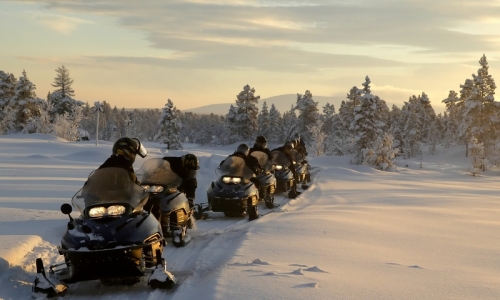 It's close to 80-miles through the forest and across lakes between Dryden and the Patricia Vacationland Border which is about another 30 miles north-east of the sister towns Fort Frances and International Falls.
The south-eastern portion of the Patricia Region centers on the town of Ignace, which is again well-serviced by a network of TOPS trails and has all the trimmings to cater to the needs of snowmobiles. From Ignace, you can continue east to the city of Thunder Bay or head north and back to Dryden via Sioux Lookout and Hudson. Once again, you'll find everything needed for a comfortable night's stay.
If you're looking for more than just trail riding or ice-fishing, be sure to check out the numerous winter events which are held in the various communities. Many hold poker derbies, winter carnivals or festivals, which may be held on a weekend but often last up to a week. Most are based on a pioneer theme and feature events like snowshoeing and dog sledding contests, snowmobile drag races and Saturday night dances. The Red Lake Trappers Festival is largely a celebration of the First Nations heritage and the tradition of living off the land.
Wherever you find yourself in the Patricia Region, you're sure to be impressed with the serenity and solitude. But precisely because of the vastness of a region which is really quite sparsely populated, it's wise to travel with a group of people and to be prepared for emergencies, including occasional extremely cold temperatures.
If you're looking for a winter wilderness adventure, be sure to consider the Patricia Region of Northwestern Ontario. I'm sure you won't be disappointed.
































You may also be interested in: