High Heels to Hip Waders
I work in an office and most days I wear dress clothing which often includes high heels. But when I get home and it's time to take them off, they sit along side my other footwear which includes, among other things, a pair of Gortex camouflage boots and a set of hip waders. This makes for quite the variety of footwear!
Living in Northwestern Ontario, I have been very fortunate to experience the sights and sounds of the great outdoors. I'm proud to say that I have been able to participate in many outdoor activities including hunting, fishing, trapping and bait fishing.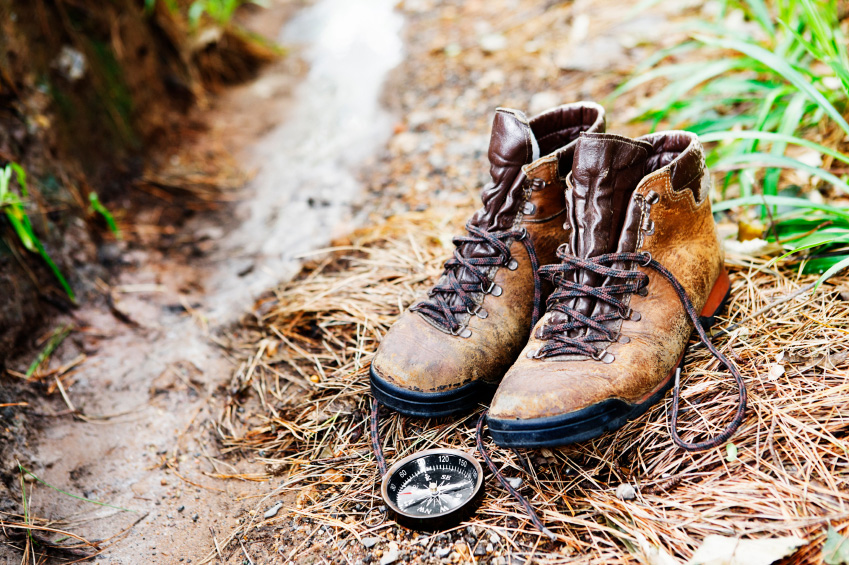 In my boots, I have experienced many adventures riding a 4-wheeler over miles of human uninhabited lands, felt the breeze in my face as we raced down the lake, followed a stubborn procupine who refused to slow down to allow me to take his photograph and felt their warmth as I sat in a bear stand waiting for the great creature to show his presence.
Sitting around a campfire, I've listened to the mournful cry f the loons on the lake, cursed at the repetitive call of the elusive whip-poor-will, listened to the wolves howl directions to each other across the lake, watched with wonder the blinking of the fireflies, marveled at the multitude of stars shining in the night sky and observed with awe the dancing colours of the Northern lights.
I've enjoyed harvesting and savouring the many bounties that the land has to offer: ripe juicy blueberries and raspberries, delicately flavoured Chanterelle mushrooms, tasty fish - north pike, trout, bass and my favourite - walleye - from our area's plentiful lakes and wild meats such as grouse, moose, bear and lynx.
My boots and I have been fortunate to admire the many birds and animals. I've watched moose feeding in the streams, seen a pine marten chase a rabbit down the road, chuckled at the antics of the squirrels trying to hide mushrooms in the trees, caught glimpses of wolves, laughed at the playful frolicking of a family of otter as they swam alongside the boat and witnessed lynx trying to hide themselves behind brush in the hopes that I wouldn't see them. I've watched owls and hawks search for mice, seen eagles soaring over that water and scoop up a fish for dinner and fed whiskeyjacks from my hands. Let's not forget the persistence of the cursed mosquitoes and no-seeums. When they're around, I'm definitely glad to have my boots.
In my hip waders, I've walked through swamps and creeks in search of minnows and leeches. I've worn them in the canoe and had the opportunity to silently paddle up to a cow moose resting on the bog. She was so intent on keeping an eye on her calf at the edge of the trees, she didn't hear us in the water. When she finally realized that we were there, I was about 3 feet from her and was positive her intentions were to join us in the canoe. I'm not sure whose eyes were open widest in surprise - hers or mine! On the flip side, my hip waders have been filled with water trying to open up a culvert plugged by beaver. Do you know how hard it is to walk in boots filled with water and attached to your belt loops?
Wearing another pair from my varied footwear collection, a set of water shoes, I've swam in the lake with beaver not more than 25 feet away, slapping the tails in protest of me invading their territory. But did you know that leeches can still get into water shoes?
I have learned some very valuable lessons from my footwear as well.
Don't forget your boots at camp and
Always check before you put them on. Why? Because you may find that one of them have been claimed as a residence by a huge spider.
Sometimes the first pair of boots you can find for a trip to the outhouse on a 40 below night aren't the best choice - green rubbers offer no warmth at all in the snow
Scratchy wool socks worn to bed on a cold winter at the cabin are the perfect accessory to ear plugs put in to ward off snoring sounds of your invited guests.
But still. when I'm sitting at my desk, you will occasionally catch me daydreaming of trading in my heels to fill some other boots. I wonder if I have to go shopping?
This article by Ruth McMillan was originally published in the Ontario Fur Managers Federation magazine - Winter 2011. Volume 16, Number 1.
You may also be interested in: