Get Away to the Most Pristine Wilderness in North America.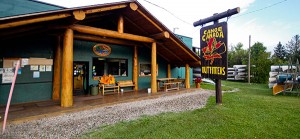 We are Canoe Canada. Your link to the glorious, unbridled north. If you're looking to escape pavement, routine or even your zip code look no further. With access to the most majestic lakes and wilderness, the days you spend here will stay with you for a lifetime. So for a trip that feels more like an adventure than a vacation – your journey begins here.
We have been at this for over 40 years. Canoeing, camping, fishing, whatever your passion, we can get you out there and back with everything you need, and nothing you don't. With packages and
services for all breeds of adventurers, it's no wonder we're Canada's foremost outfitter.
Quetico is the Canadian side of the Boundary Waters Canoe Area. It covers 4,800 square kilometers of untouched wilderness in Northern Ontario's Pre-cambrian shield rock forest.
No hunting, roads, or development of any kind are allowed and firearms are prohibited. Even motorized boats are banned from the park, so you can travel by canoe through a truly remote wilderness.
Our Outpost Cabins
Batchewaung Cabin on private island in Quetico Park
Bow Lake Cabin with 2 portage lakes
Dimple Lake Cabin with nearby Patricia Lake
Gamble Lake Cabin with nearby no name lake for fantastic fishing
Halfmoon Lake Cabin with Portage to Elsie Lake for boat access to lake trout, walleye and northern pike
Irene Lake Cabin, with access to the Gamble River, Doan Lake and Little Sanford Lakes
Little Gull Lake Cabin with 1-day canoe trip loop from the cabin explores 3 different lakes
McQuat Cabin with portage to boat on nearby Mark Lake to fish for same species
Mercutio Cabin with 2 additional side lakes with boats and motors for smallmouth bass, walleye and northern
Namaygoos Lake Cabin with Short portage to Kinmoapiku Lake for good walleye fishing
Nym Lake Cabin is our Only drive-in cabin location
Robinson-Kenoshay Lake Cabin with Short portage to boats and motors on Dibble Lake for more walleye and lake trout fishing
Rollingstone Cabin with short walk to boats on White Otter Lake to fish for lake trout, walleye and pike
Sawbill Bay Cabin is the only cabin on Sawbill Bay (Marmion Lake) of the Floodwaters — lots of water to fish!