About
We are located in Red Lake, Northwest Ontario, Canada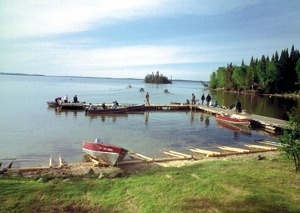 Come and have a memories of life time at Jack Green's Fly-in Camps for your next fishing and adventure trip. Our Northwestern Ontario camps offer a variety of opportunities to catch walleye, northern pike or lake trout depending on which outpost destination you choose.
The owners of Jack Green's Fly-In Camps, Bob and Jack Green, have utilized years of experience to provide well maintained, safety oriented and quality & reliable equipment and friendly, experienced staff. We strive to provide you with an affordable and enjoyable fly-in fishing trip that is organized by efficient and knowledgeable personnel.
Green Airways was born in 1950 by the late G.H. Green, providing safe and reliable air transportation to the fly-in fisherman. Our ongoing commitment is to continue this tradition for your future fishing excursions.
Jack Green's Fly-In Camps provides you with:
Knowledgeable staff and experience in air service and fly-in fishing that dates back to the 1950's to ensure you of a memorable and enjoyable trip.
Airplane transportation to and from your outpost camp.
A weight allowance of 150 lbs. of gear per person (excess weight charges of $1.00 per lb. beyond the base allowance).
Free vehicle parking at our base camp.
14′ Lund boats with 9.9 Evinrude motors equipped with swivel seats, approved life vests, fish nets, paddles and spare motors.
All pre-mixed gas for your trip.
Excellent modern log cabin accommodations in pristine wilderness settings fully equipped with hot and cold running water, sink, shower & toilet (Outhouse at Shabu and Haggart), firm twin bed with mattress & pillow, fridge, stove, propane lights, BBQ, propane deep fryers, free ice or propane freezers (varies from camp to camp) and cooking utensils.
Mid-week camp check (weather permitting).
Satellite phone for emergency use to reach our base camp in Red Lake.
Birch Lake Outpost
Birch Lake Outpost is about 15 miles from our main camp on the lake. Here you can enjoy the privacy of having the only cabin on this end of the 30,000 acres lake.  The camp is surrounded by beautiful sand beaches and has a dock that is over 200 feet long. Our very spacious cabin sleeps 8 to 10 comfortably. Has hot and cold running water and indoor toilets.
Haggart Lake Outpost
Haggart Lake is located 52 miles west of Red Lake on the western boundary of Woodland Caribou Provincial Park. It is surrounded by high rock cliffs with many scenic routes to travel and fish.  Our outpost is the only cabin on Haggart and Bulging Lake, giving you the privilege of being the only fisherman on this 7,300 acres of water. Haggart lake & Bulging lake is well known for their large Northern Pike fishing and Lake Trout fishing.
Poplar Grove Camp
Perfect location for your Walleye, Northern and Lake Trout fishing. Poplar Grove Camp is located on Birch Lake. Our truly accommodating caretaker is always available for advice, ensuring your motors are fueled, boats equipped and our fully modern cabins with hot and cold running water, showers and indoor toilets, propane and electricity are always well maintained.
Shabu Lake Outpost
Shabu Lake Outpost is the only cabin on the lake. Shabu Lake is about 45 miles from Red Lake by air. There are close to 3,000 acres to for superb Walleye and Northern fishing. We are currently licensed for up to 6 guests at Shabu Lake Outpost. Enjoy the luxury of showers, hot and cold running water in a large fully equipped comfortable cabin. All trips are from Saturday to Saturday. Check in time is 6:30 a.m.